Russ Hudson received his Red Seal Technician Certificate at just 21 years old.
He worked for a couple of garages until, at the age of 25, he decided he could run his own shop! "I didn't really know what I was getting into but started in a one-bay warehouse all by myself," he recalls.
"There have definitely been many changes. Growth and a couple of moves brought us to this location in 2001—a highly visible complex at a major Langley Highway Bypass housing our current shop. In 2008 we expanded the shop again, adding an additional four bays, and five years ago we acquired the land and buildings."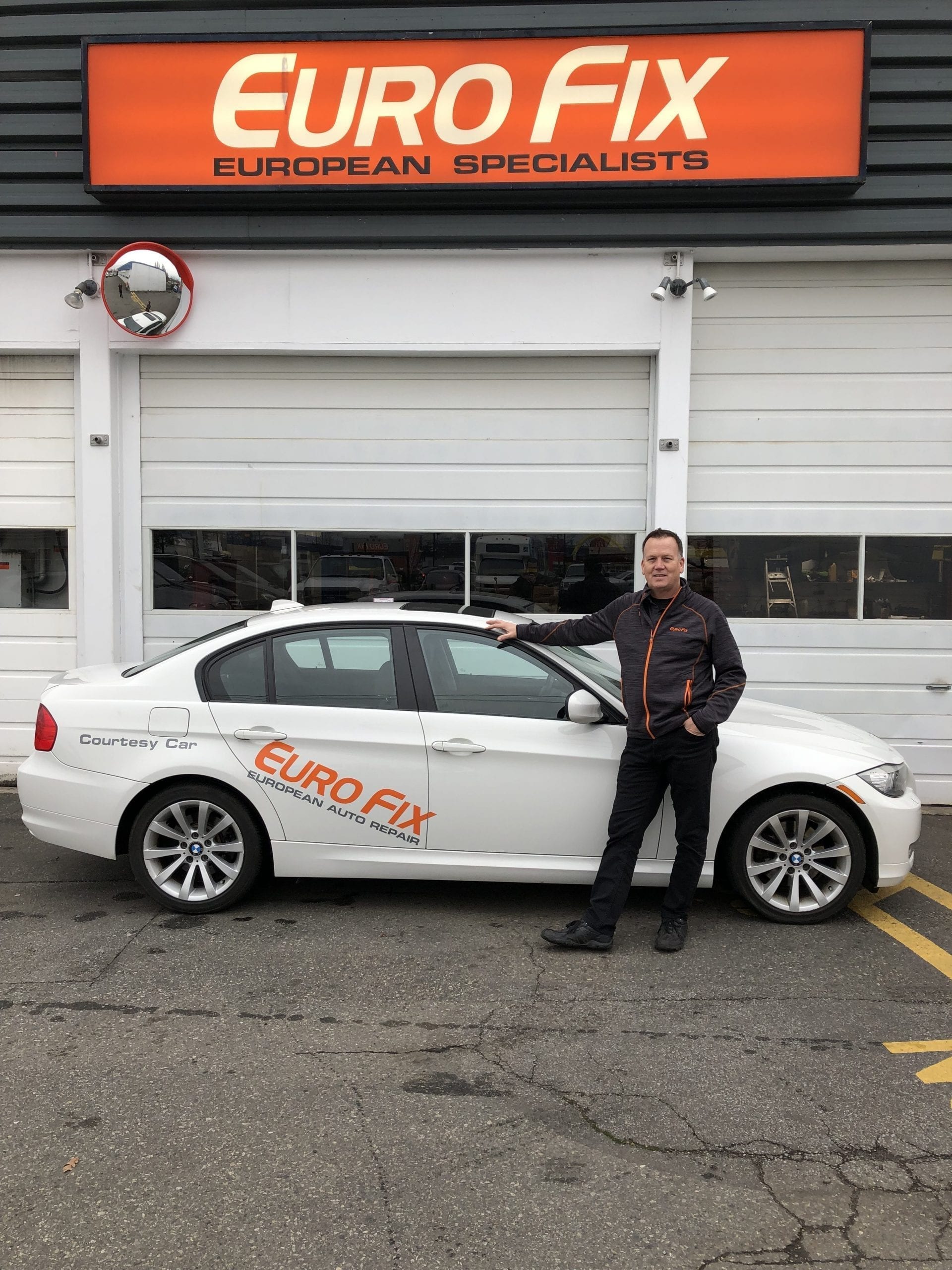 Expansion
As of March 31, Hudson Automotive takes over another four bays being leased to a transmission shop in the complex for a total of 13 bays! This is where Hudson will locate his Euro Fix operation and take on all major European brands, including Mercedes-Benz, Audi, BMW and more.
Vehicles from these manufacturers have become more and more popular in the region, but Russ knew there actually weren't many outlets available to repair them.
"We noticed there are more and more European vehicles in our area than 10 years ago," Hudson notes. "I saw the opportunity and decided there was a market for an independent shop in this repair sector.
"We created a brand called Euro Fix about three years ago and have been marketing, branding, and advertising it since. Now I feel it can stand on its own; so we're making that move."
Working ON the business
Russ has worked hard on his business knowing he needed to take courses to run it. He joined a shop group that got together to talk over various business 'dos and don'ts' learning much along the way. "That's what really got me working on the business, not in the bays. This gives me time to concentrate on marketing and moving forward," Hudson says. He's been in many business groups and training courses, and all have helped him in his business. "Currently we have a 'Momentum Group' that meets seven times a year… we go over numbers, bring in speakers, have various topics and subjects and a coach that keeps the meeting on track.
"We have a partnership with Lordco Auto Parts as a group sponsor. We've developed a great relationship with them, and I certainly appreciate all they've done for me and my business. They have your back helping in any way they can!"
Customers like the service at Hudson Auto and Tire. "We will do whatever it takes to make it right," Russ tells us. "We're not one of the cheapest shops but we have a clientele who wants the service and the quality. And 80 percent of our business is repeat… we wash and vacuum every car, have a free shuttle service and courtesy cars, a two-year 40,000 km warranty, a loyalty program— many things." Hudson can't say enough about the team at the shop. "Our team of advisors and technicians are awesome. They're an extension of me and look after customers very well. We have a very high standard of quality—our goal is to have it fixed right every time. It's a commitment to quality. This comes through to the customers that want this kind of service, and we deliver that." And Hudson Auto has been doing just that for 28 years!
Modern reality
Talking about the reality of the market today, Russ believes it's still about quality and being as convenient as possible. He believes in the saying "under promise, over deliver." "I believe that still fits today… our business is set for that type of thing and has been for many years!" Russ adds. "We have a great, mature website with a good company running it who does all the updates, the ads, SEO, etc.. We're always near the top or at the top of the list for those looking for repair services. Our online reviews are very important. Customers read them and come in. Online business is great for us… it brings us a lot of new business, as does our location."
Russ believes his Euro Fix expansion is going to help the business do well in the future and expects this brand to account for 50 percent of sales. Hudson is also part of the GRiP Tire banner, providing all major tire brands with the group's buying power of allowing the independent repair shop to compete in the tire business.
Thanks to a solid plan, Russ Hudson's business looks set to thrive in the future!