Darren Phillips started out as a General Motors technician.
But he always knew he really wanted to run his own shop… and this coming from a family of 12 kids— eight boys and four girls, many of whom are now entrepreneurs, too! So in 2003, Darren decided to leave the comfort zone of working for someone else—albeit with no formal training on how to run a business—and opened his own shop, Darren Phillips Auto.
"You could say I went to the school of hard knocks but through perseverance and stubbornness, I learned what worked for me with a lot of help from family, friends, suppliers, other garage owners, and failures. The one thing I always stayed consistent with was customer satisfaction, and 15 years later it is paying off. We have a staff of three techs, including myself, and we have expanded the business to a full-service auto repair shop with four bays," says Darren.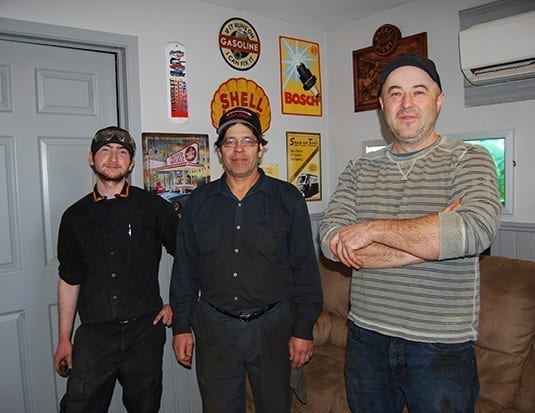 Repeat business is essential
Since the greater Moncton area has a lot of repair shops and Darren's shop is on the outskirts of the city, he says that repeat business is essential. "I find customers appreciate a smile when greeted and explanations of what services are required, along with a fair price. Notice I said fair—not cheap, that's something I learned early on—you need profit to run a business, and profit is certainly not a dirty word."
Darren believes in supporting a parts supplier that stands behind its customers. His supplier allows Darren to make sure the customer is always satisfied, which includes making decisions on warranty items. "I use APM as my main supplier. They have been in business since the 1940s and are a Bestbuy distributor. The owners also have Colonial Auto Parts in Newfoundland-Labrador and have many stores with good prices and excellent service. As far as my business goes, we always try to use top line parts as we know the comebacks will be less than if we use white box parts, not to mention customer satisfaction. With that being said, though, we never put our customers on the spot, so if all they can afford is white box parts, then we will accommodate their budget and needs without sacrificing the service end of business. But we always do so with the explanation of the pros of using better parts," Darren says.
He adds that from his 15 years as a garage owner, he has definitely seen difficult times, especially when he first started. "I did not have banks wanting to work with me, so I had to build a new building and equip the shop with the needed essentials—hoists, compressor, tire equipment, scanners, etc. Not everything was high end, but move forward 15 years and everything I buy for tools and equipment is high end—OTC, Snap-on, John Bean, etc. We constantly keep our scanners, TPMS tools, etc. updated to the latest updates as we know this is essential in fixing vehicles properly."
Fair pricing and information
Darren Phillips Auto believes in making the most profit while charging the customer a fair price. Darren tells us that if his tools and equipment are not updated regularly, they cannot complete the job in a fair time and price. "We use Identifix and IATN as our resources for information… these are essential tools today in all shops because without the right information you are lost! Our techs are continually training to stay current with the many constant changes in the industry. We keep our shop tools updated as well. When the new tools come out, we buy them," Darren explains.
He goes on to say, "I believe the key to success is to be honest and fair to your customers; realize when you are wrong, be upfront with that and make it right; pay your bills and pay your employees a fair price, but most importantly pay yourself! Make time for family life—this is very important to me. I have a wife and three children, ranging from 17 to six. You have to spend time with your children, teach them right from wrong, give them guidance in life, they need guidance and discipline to be productive in society. My wife is a very tolerant woman—many nights I have worked late and many weekends I would get home after everyone has gone to bed after making sure the garage was ready for the next day. I love what I do and I appreciate all of my customers and their loyalty.
"As long as my health is good and my children wish to be involved, we'll be around for a long time," Phillips states.
Sounds like Darren Phillips is going to be quite successful into the future!