According to a J.D. Power study, the dealer-lender relationships will play a critical role as vehicle sales in Canada keep sliding.
As auto sales continue to decline in Canada, dealers are looking for lenders to foster a dealer-lender relationship that will focus on ease of doing business, according to the J.D. Power 2019 Canada Dealer Financing Satisfaction Study that was recently released. Dealers state that two reasons they are sending business to a lender are because they are easy to work with and to build relationships with people.
"The constricting market presents both risk and opportunity for lenders," said Patrick Roosenberg, Director of Automotive Finance at J.D. Power. "As dealers face headwinds, the pressure on lenders mounts not only to be price competitive but also to provide a high level of service. Every dealer-lender communication touch point, from the credit analysts to the sales representative, must be a value-add. Lenders who are engaged with their dealer partners are poised to protect market share and even grow it over the long-term."
The study also indicates that dealers will seek the path of least resistance; dealers who rated the reasonableness of the lender's stipulation process high (above eight on a scale of 1-10) are more likely to increase their business with a lender. Those who rated the process an eight or lower are less likely to do business with a lender.
Lender rankings
In the captive lender segment, Ford Credit ranks the highest with a score of 915. Toyota Financial Services ranks second highest at 897, and Honda Financial Services ranks third with 891. Overall satisfaction in this segment has increased from an 875 in 2018 to a current 883, on a 1,000-point scale.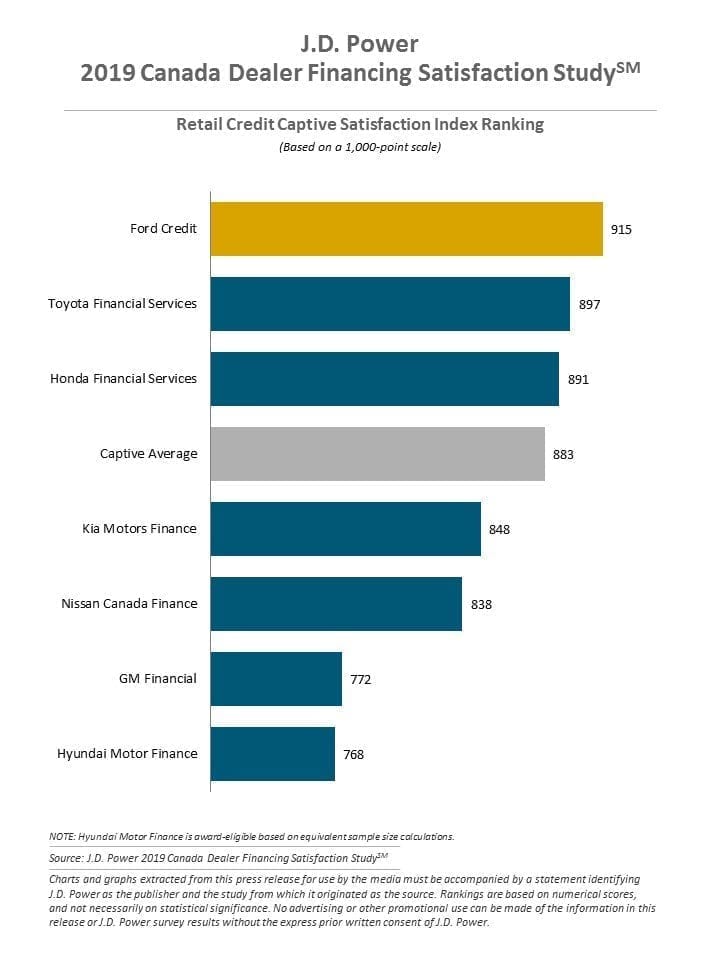 From the non-captive lender segment, TD Auto Finance ranks the highest for the second consecutive year, with a score of 906. Bank of Montreal ranks second highest at 890 and Scotiabank grabs third place with 888. Overall satisfaction has risen 16 points from 2018 to 883.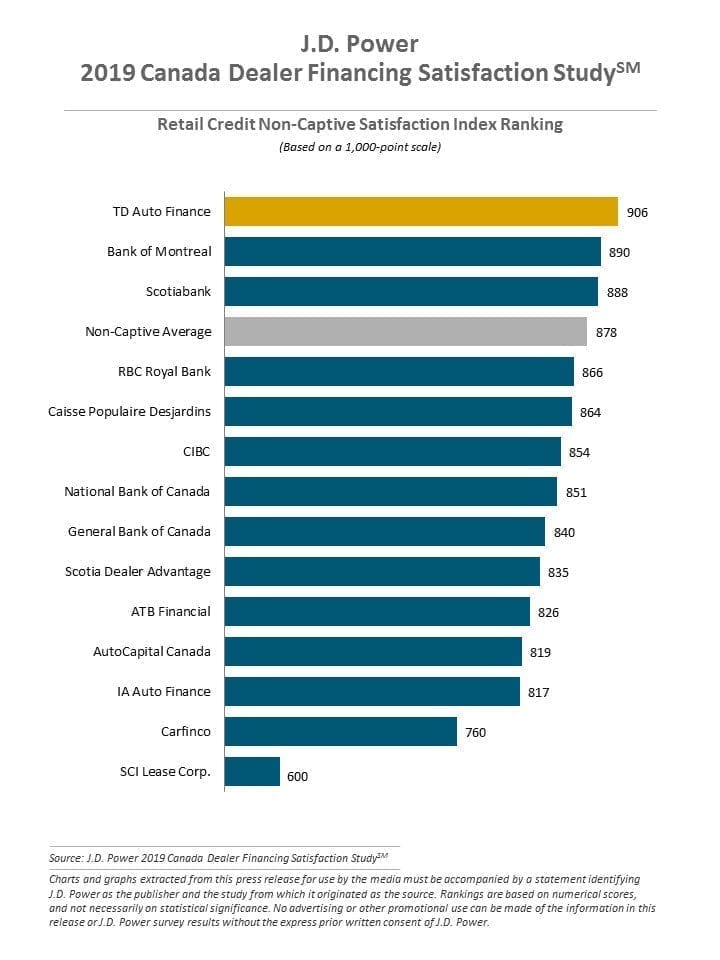 The 2019 Canada Dealer Financing Satisfaction Study conveys evaluations from 5,572 finance providers across the two segments from new-vehicle dealerships in Canada. This study was fielded in February 2019.
For more information about the study, click here.