For many, COVID-19 provided more free time to learn a new skill or even try a new hobby.
However, for Patrick Savella and his father, this time was used to enhance their skills and take on a new project: restoring a 1966 Chevy II Nova SS.
Patrick's father, Pat, owned the vehicle since he was 18 years old. Throughout the years, the car saw many scenes from driving to the grocery store, taking children to school and friends' houses and much more. But after a certain time, as a result of Pat dedicating his life to his family and supporting their needs, the car stayed in the garage…for 35 years!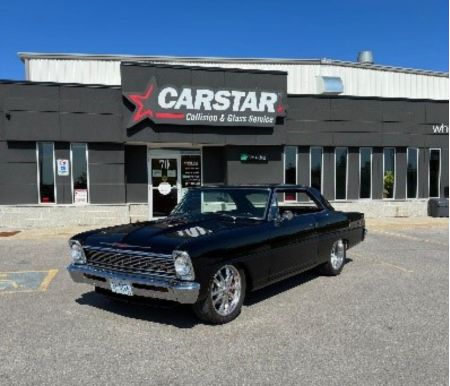 When COVID came around in early 2020, the duo was given a little gift of time, despite keeping their doors open during the pandemic. And they knew exactly what to do with it: restore the treasured family vehicle. Given that the vehicle has incredibly unique features, such as a 5-speed TKX transmission, chassisworks front clip, and more, the restoration process took two and a half years.
"My father has been in the industry for over 45 years," said Patrick Savella, GM of CARSTAR Stouffville and son of owner, Pat. "This is a huge accomplishment for myself, my dad and the entire team here at CARSTAR Stouffville. The countless hours and quality workmanship on the project was truly outstanding and we can't thank everyone enough for the support!"