This Alberta retailer uses social media and other online tools to attract customers.
In this age of Internet explosion, every business owner learns to value the perks of having a strong online presence. A small thriving business tucked away in western Canada has learned this mantra quickly. Innovative Autoworx is a tire retailer that specializes in wheels, tires, suspension work, and alignments for both lifted and lowered vehicles. Located in Calgary, Alta., the shop has been expanding its virtual space through Facebook, Twitter, Instagram and its own website.
Dreaming big
On the verge of celebrating its 10th anniversary in June this year, Innovative Autoworx first opened its doors in 2009. The shop was initially set up in a small 70 sq m (750 sq ft) garage and then moved to a 260 sq m (2,800 sq ft) facility in the same month. It was operating with three employees and one hoist at that time.
Continuously innovating to keep up with the changing times with its employees working long hours and late nights, the business eventually expanded to what it is today. In 2014, Innovative Autoworx moved into a 1,579 sq m (17,000 sq ft) shop that was equipped with four hoists and an alignment rack. This was a major milestone, according to Kevin Jones, Operation Manager of the facility. Proudly recounting the company's journey, Jones says that the current location is a million-dollar facility that has a store as well as a warehouse.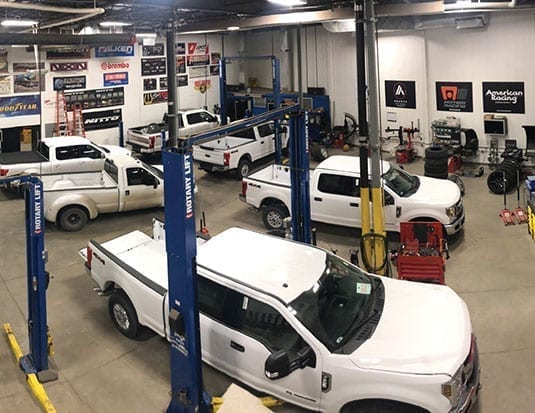 Foray into the Internet
A click on the shop's website takes us to the home page with four familiar icons displayed at the top right corner of the page. These icons are for Facebook, Twitter, Instagram and Google Maps. A firm believer in keeping up with the times, Innovative Autoworx uses these popular social media platforms to reach out to its potential customers.
Joining social media was Jones' brainchild. "We found that social media is one of the newest and fastest growing ways of advertising. That is what put us on this path," he says.
Although they've been online for quite some time now, the shop has ramped up its social media use considerably over the past two years. "I have a guy that just mainly works on it day-to-day as part of his duties," says Jones.
In the mood to constantly evolve, the shop also upgraded and relaunched its website. Jones had been working on this project since January of this year. The brand new version was launched on April 1 and has been up and running in its newest iteration ever since.
"Keeping your website current plays a major role in the success of your business. I had a website that was outdated and decided to renew it. Within a week, you should see the increase in hits and activity that I got on it," adds Jones.
How everything works
The concept of sharing on and through social media has certainly helped the shop increase its business. Facebook and Instagram have been particularly useful in this regard. "We have been able to gain new customers from all over North America, especially through Instagram. People reach out to us after seeing some of the unique work we do on our customers' vehicles; they ask for specifics. Sometimes, we've gone as far as shipping products all the way to those customers," explains Jones.
The practice of sharing on Facebook has also increased clientele noticeably. The shop is in the habit of posting photographs of its customers' completed vehicles. When a potential customer sees them, he/she gets a visual of what to expect.
"They often end up wanting to do that to their own vehicle or recommend it to somebody they know would be interested," says Jones.
Facebook is a good place for customers to leave reviews. Jones says that since the shop is focused on its customers, it mostly gets good reviews, which enhance its reputation. Occasional negative reviews are addressed appropriately.
When a customer requests a quote through the website, a page pops up on the site requesting him/her to "like" the shop on Facebook. "We review comments and feedback on a one-to-one basis within our team and make changes when necessary," adds Jones.
He strongly believes in adapting his business whenever required. "I converse with a lot of business owners from the younger as well as older generations. I have noticed that the older generation is often scared to utilize social media. To keep your business thriving, it is important to stay visible in public, keep up with market trends, be honest and provide good customer service," he concludes.