Tire equipment manufacturer Martins Industries took full advantage of the tremendous exposure offered by SEMA in Las Vegas to present its latest product offerings.
Martins Industries President, Martin Depelteau, enjoyed the support of a full contingent of team members who provided support at the spacious Martins Industries SEMA booth, where a full slate of new products were featured, including tire inflation cages with programmable inflation. This latest innovation, developed initially for the European market, saves time while increasing tire-inflation safety and precision.
Martin Depelteau introduced the new Canuck Tire Puck to TireNews, a versatile wheel trolley that can easily move up to four wheel/tire assemblies with ease. This lightweight, innovative trolley is indispensable during those hectic tire changeover seasons.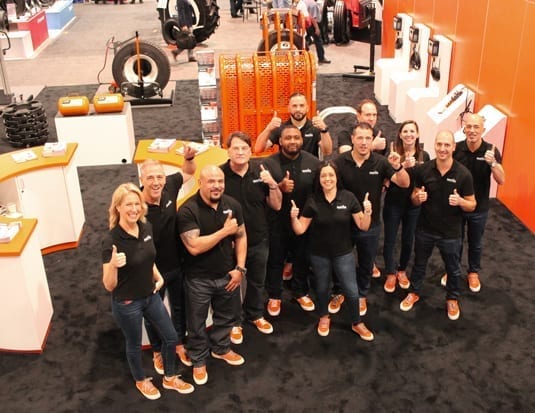 SEMA was also the venue of choice for the launch of the new MARTINS pickup-truck tire cage, which, depending on the selected model, can safely hold and transport 50 to 100 tires, and is designed to adapt to domestic brand pickup-truck beds.
Available throughout Canada and the U.S., Martins Industries also distributes its tire storage and mounting equipment in numerous markets across the globe, including Europe and Asia. The Quebec-based company has five warehousing and distribution facilities in four continents.