A palpable sense of pride served as the backdrop to the festivities at the Montreal InterContinental Hotel on June 7th, as Pirelli and Atlas Tire invited their Canadian partners and clients for a pre-event cocktail ahead of the race weekend.
As it happens, the agenda for the evening's festivities highlighting the new P Zero Hypersoft tire took on a whole new dimension thanks to a historical achievement earlier that day by race car driver Sebastien Vettel.
The Ferrari, equipped with P Zero Hypersoft F1 tires, recorded a qualifying lap of 00:01:10:776, bettering the former Circuit Gilles Villeneuve race track record set way back in 1974.
"We are extremely happy to celebrate this historic accomplishment this evening in the company of our Canadian partners," declared Pirelli Canada president, Roberto Prieto."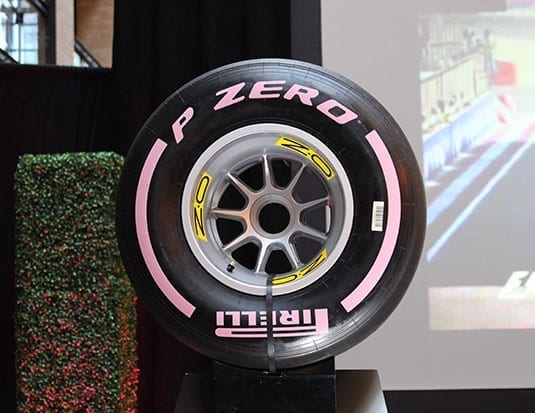 "We are ecstatic about this accomplishment, as we have the privilege of sharing our sense of pride and joy with our distinguished guests," declared Pirelli Canada president, Roberto Prieto. "They are directly responsible for our success in this market, as we continue to innovate and offer top-quality products to Canadian consumers which have also been acclaimed across the globe."
Invited to Montreal by both tire distributor Atlas Tire and tire manufacturer Pirelli, the event also served as recognition for those partners and clients who have contributed to the success of the Pirelli brand across Canada.
The spotlight was also shared with several distinguished guests, including former Formula 1 driver for BMW and Renault, Roberto Kubica, who was accompanied by Pirelli Motorsport Racing Manager, Mario Isola.
Both experts discussed the new P Zero Hypersoft Formula 1 tire recently tested in Abu Dhabi by Roberto Kubica, who provided valuable feedback to the tire manufacturer. "My first impression was very positive," he confirmed. "This tire offers a good compromise between speed and handling, which explains the great qualifying performance, which also extends into race day."
"Formula 1 is an ideal platform for Pirelli to test tire technology which eventually makes its way into consumer products," added Mario Isola. "As tire development relies more and more on virtual technology and computer-generated calibrations and simulations which open a world of possibilities, real-world race course testing is crucial, as it submits new products to the extremes that can only occur under race conditions."
Representatives of the Quebec Breast Cancer Foundation were also present; they received support from a majority of participants during the event. Foundation Ambassador, Stephanie Alexandra Joseph took to the stage to share her own experience to help those in attendance gain a better understanding of the importance of supporting this noble cause.
Take a look at some of the highlights of this 2018 Montreal Grand Prix event:
[wds id="654″]