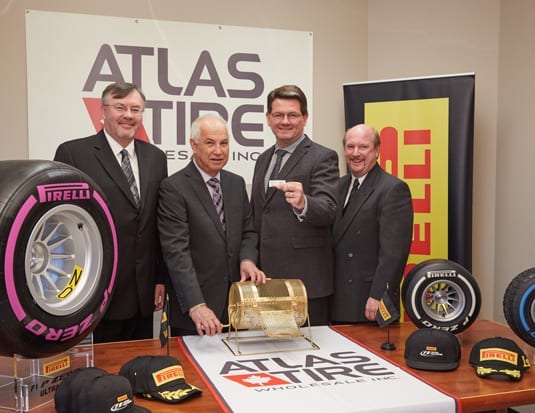 Eight happy winners enjoy an action-packed trip to the F1 Grand Prix in Montreal.
Every year, Atlas Tire Wholesale invites their clients to enter the F1 Grand Prix Montreal VIP Raffle. This year, four winning entrants were chosen (winners have been notified) to enjoy prize packages worth over $10,000 each.
Each prize, for two, includes a prime location in the Pirelli VIP Hospitality Suite for three day access to the F1, hotel accommodations for three nights, and ground transportation to and from the track.
This year, Atlas Tire held two draws – one for their tire dealer clients, and one for their car dealer clients. Two winners were chosen per draw, for a total of four winning tickets. Numbered tickets are thoroughly mixed up and two winners are pulled out of a drum by an independent auditor who supervises the entire process.
"The Pirelli F1 raffle is our way of thanking our clients for purchasing Pirelli tires from us," explained Renzo Castagna, Marketing Manager for Atlas Tire Wholesale. "We're grateful that they've decided to partner with Atlas Tire."
The annual draw creates quite the buzz for the Pirelli brand, while the trip to the F1 in Montreal gives both car and tire dealers an opportunity to see how Pirelli tires perform in some of the most demanding conditions.
"As you may know, Pirelli helped lead the charge to a wider tire for F1 and these lucky clients will get to see the new wider tires in action." Castagna added. "There's no better place to see the technology that Pirelli puts into their tires than on the track."