On April 10, the Automotive Industries Association of Canada (AIA Canada) hosted a special training event for the automotive aftermarket.
The event, "Vehicle Programming Today!", was held at the Electric Vehicle Discovery Centre in North York, Toronto, Ont. The tightly packed room was buzzing with excitement, especially at the discovery of the venue—an electric vehicles (EVs) haven. The Electric Vehicle Discovery Centre had been opened two years ago for the sole purpose of helping people better understand EVs and plug-in hybrids (PHEVs). The centre has nine different makes and models of EVs and hybrids—an Audi A3 Sportback e-Tron, BMW i3, Chevrolet BOLT, Chevrolet VOLT, Ford Fusion Energi, Honda Clarity PHEV, Mitsubishi Outlander PHEV, smart fortwo Electric Coupe and Volkswagen e-Golf. People interested in experiencing the vehicles without a salesperson looming over their heads can simply walk in, complete a survey and then test drive any one of the nine available choices.
The venue was a smart choice for the agenda of the day—training the aftermarket on how to repair EVs and PHEVs correctly. Craig Van Batenburg, CEO and founder of Automotive Career Development Center (ACDC), was the expert speaker at the event.
The day kick-started with technicians, jobbers and suppliers networking over coffee, croissants and industry chatter. Moderator of the event, AIA Canada's Ontario Division Chairman Joe Mercanti, welcomed the guests and introduced the speakers. He additionally encouraged attendees to actively promote the program on Facebook and Twitter to inform people about the ongoing training class.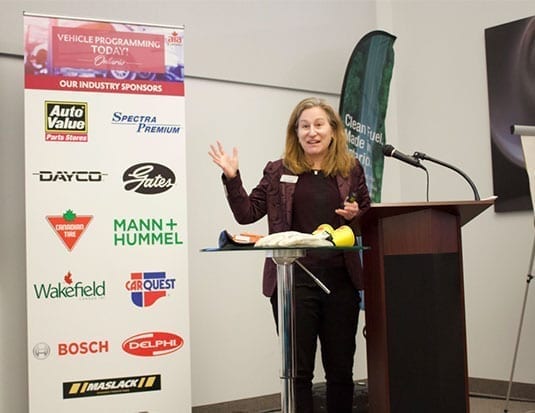 Plug 'n Drive
Cara Clairman, founder and CEO of Plug 'n Drive, briefly stepped in to explain how the centre was being used to help consumers get on board with the idea of purchasing EVs. The ultimate goal of the organization is to work with the government and the industry to increase EV sales to 5% of new passenger car sales by 2020. Clairman also pointed out how the concerns surrounding EVs, such as range anxiety, costs and lack of options, have been gradually addressed over the years.
AIA Canada's current focus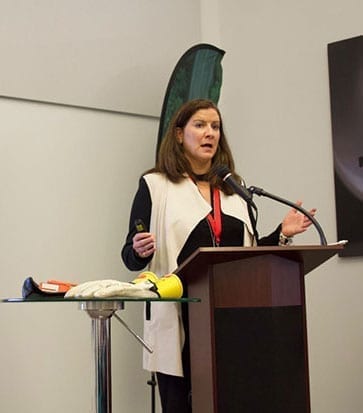 Linda Donnini, Vice-President, Member Relations, AIA Canada, discussed how the organization was working to understand what challenges each region in Canada faces so that it can help, support and lobby with government at different levels to make sure that the right legislation is in place. The organization is additionally evaluating whether the Canadian Automotive Service Information Standard (CASIS) is enough for the aftermarket today.
Donnini also spoke about the Automotive Service Associate Program (ASAP) recently launched by AIA Canada. "The primary purpose is to build a community with aftermarket service providers so that they have a direct voice within the AIA. We want to make sure that we can hear voices across the country so that we can support them," she said.
EV/Hybrids technician training class
Van Batenburg's technician training class covered the crucial basics of repairing EVs and PHEVs. Although not a safety class, he covered safety measures necessary to handle these vehicles extensively. He also cautioned technicians that if they tried saving their customers' money via discounting, they would be losing money.
The entire training was split into a morning and an afternoon (post-lunch) session. Van Batenburg covered the following topics in his class:
How to start a hybrid with a dead H V Battery pack
How the HV system can be tested safely
Top 5 causes of a Prius that will not start
What components are failing
What is a good maintenance schedule for a hybrid or EV
Plug-in systems. EVSE and Fast Charging
How to attract hybrid owners to your shop
What types of electric motors are in use and how to test them
A short snack-break in the afternoon turned into an exciting impromptu practical demonstration session. With the different types of EVs and PHEVs present at the venue, Van Batenburg pointed out the intricate systems and components in a few of them to the captivated audience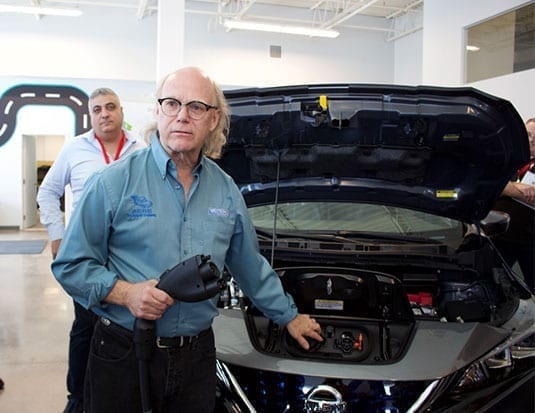 . The excited listeners even rushed to grab their coats and follow him outside the facility as he moved on to a different car parked there.
The highly technical presentation packed with information was a must-attend for all automotive technicians looking to taking up EV and PHEV repairs regularly at their shops.
With some time to spare after the end of his presentation, Van Batenburg discussed the critical issue of climate change and how it is affecting Canada. He also narrated how HONDA had convinced him in 1972 that 'Cars are evil. Oil is bad. We are all going to die.' He has not changed ever since, he said.
AARO's work in the aftermarket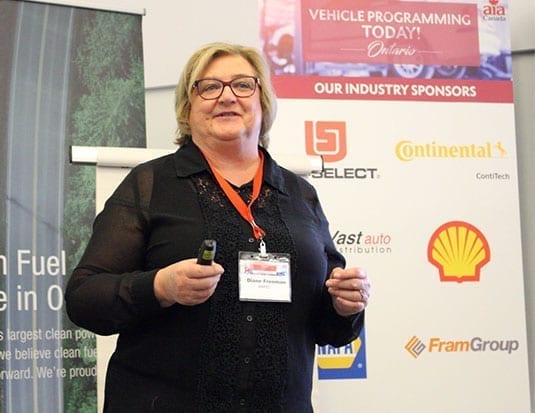 Diane Freeman, Executive Director of the Automotive Aftermarket Retailers of Ontario (AARO) and Mark Lemay from Auto Aide gave a rundown of the challenges faced by the aftermarket today and AARO's proactive role in trying to combat them. Stressing the need for automotive technicians to join the organization, they discussed how teaming up with the National Automotive Service Task Force (NASTF) in the U.S. has helped AARO move forward with their Right to Repair 2020 mission. AARO urged suppliers to help them conduct their presentations in order to help inform the Canadian aftermarket better. The organization plans to bring everyone up to speed on where they are on this path at the AARO Symposium scheduled for January 18, 2020. Requesting everyone to get actively involved in AARO's efforts, Lemay noted that if the aftermarket disappeared, there would be no need for independent service providers and technicians anymore.
A short Q&A session followed this brief presentation where attendees voiced concerns regarding the situation with CASIS and what is being done across Canada to address the issue of access to information.
The event's heavily loaded sessions were interspersed with networking breaks where people bonded over food, beverages and challenges faced by the industry. Attendees also got the chance to test drive the EVs and PHEVs at the venue during lunch. At the end of a fruitful day, attendees left the venue fully charged up with information.