Rod Pickering of R.P. Automotive in Weyburn, Saskatchewan, opened his shop in 2001… a little two-bay garage.
He was on his own, and then about six months later he hired another tech. Three months later he hired another tech, and it all evolved from there. He rented that space for about a year and then purchased another building, the one he currently occupies, encompassing four bays and measuring about 4,800 sq ft.
"We work on all models," Pickering says. "We're general repair. We don't specialize. When I opened up I stated we'd work on anything, and that still holds true today!"
Initially, Pickering says he did not take any management courses… he just played out the business of running a repair shop by ear—he had no business training at all! Several years later, Auto Electric Service Ltd. brought in Bob Greenwood for a training session and Pickering did Management Training with him. Over the following years, he has taken more business training and certainly credits Auto Electric for the training that has really helped him with his business, making sure he was going in the right direction.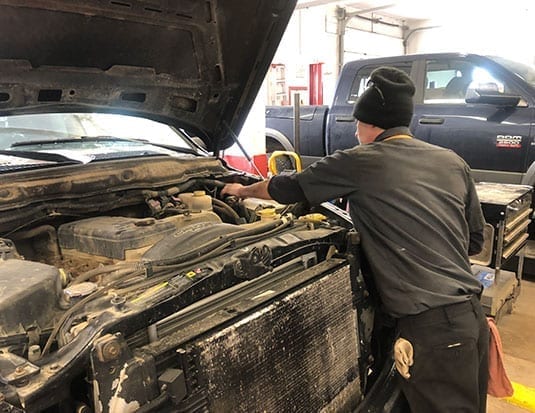 Training is essential
"This training has progressed through the years, and now we're up to three technicians, a shop foreman, another journeyman technician (I'm also one), an apprentice, two parts counter people with one looking after the social media, who does client follow-ups, etc. My wife does all the book work, and I don't work in the back anymore," Pickering tells us.
He says Auto Electric is his supplier and is good at bringing in trainers from amongst their various suppliers. He and his technicians always attend those sessions. In addition, they have lunch training sessions, which could be technical or occupational health & safety training, diagnostic training, diesel webinars, etc. Lots of training happens at R.P. Automotive and is ongoing every week.
"I'm a member of the Auto Value program and have been since 2001 when Auto Electric approached me—there are some great benefits with it. And this year, Auto Electric nominated me to be on the Advisory Council for the Alliance. This Council is made up of 10 shop owners who meet twice a year, have conference calls monthly and give feedback to the Alliance about the recommendations and programs they suggest if we think it's going to benefit the membership. I'm the only Canadian on this Council," Pickering adds.
"Auto Electric is continually expanding their product line and updating it to be sure they have the right part for the vehicles the shops are working on. If we see we're selling a lot of one part, we let Auto Electric know and they will stock it. They're great to work with and have helped me grow my business—they helped immensely with the business training sessions, and I'm still learning today. I've made more changes, and this has helped the business as well.
"On the subject of 'white box' parts, I have always used good quality parts since day one in my business. I don't want to have a vehicle back because of a part failure.
"As to our clients, I have a high level of expectation—we want to fix it right the first time! We're very particular in how we do the job the way it was meant to be done. Our goal is zero comebacks… we're not perfect, but our ratio is very low. I'm proud of my team," Pickering says. "If we have a comeback, we review it as a group to see what went wrong!"
Building relationships
R.P. Automotive tries to build relationships with its customers. "Our focus is to make sure their vehicle is safe and reliable. That's our goal, and we want it to last. We want their vehicle to always be safe. Every time that vehicle comes into our shop we do a complimentary seven-minute walk-around. We record all the data we find and suggest work needed from that. We want that vehicle to be safe with no unexpected surprises popping up," Pickering says.
"My business has been successful because of the employees I've had over the years… it's not me. With the type of work needed today, I think it's imperative that management stay current on business training. The technicians stay up on manufacturer training, so shop owners have to stay up to date on occupational health and safety regulation rules, etc. and it's an ongoing curve. I have the policies in place for this… the lunch trainings, the manufacturers' training sessions, etc. and I think that's key to the realities of today. I want to interact with other technicians and get their input. More heads thinking together can be better."
Pickering thinks the aftermarket statistics are kind of scary. "Shop owners are getting older," he says. "Fewer people are coming into this trade. Technicians have to be so knowledgeable now—more skills are needed to be one. And the vehicle is going to get more complex with the technology that's coming. Small independent shops are going to close. They won't be able to afford the equipment that will be needed to fix the newer vehicles. You need to keep up with the times and change your methods to be in business today and the future."