Software that gazes into the future.
For any jobber, it's a challenge to make sure they have the parts they need, when they need them. But how?
The next best thing to a crystal ball is using data and forecasting models to manage inventory and, consequently, profitability.
Many jobbers don't consider themselves computer savvy and are usually busy with their day-to-day work, but today's technology is user-friendly. "Analytics tools provide pre-established reports, dashboards, queries and layouts, so you can easily take advantage of the analytics," explains Tom Wood, Automotive Distribution Platform Marketing Manager, Epicor Software. "Everything is pre-canned. You're not creating everything from scratch."
Epicor offers the Eagle business management system for jobber stores, as well as the Vision software for large WDs. "Both have a product called Compass, which provides a graphic interface with slide columns and measures to create what you need," says Tom. Compass features a Graphic User Interface (GUI) that uses pictures and icons.
Calculating data and lead time
Then there's the Inventory Planner product, which uses service levels. "Think of a service level as the percentage of time that you feel comfortable walking past an empty shelf," states Tom. "If you have a slow mover, you may be comfortable walking past that shelf, and there's nothing there for a day or two."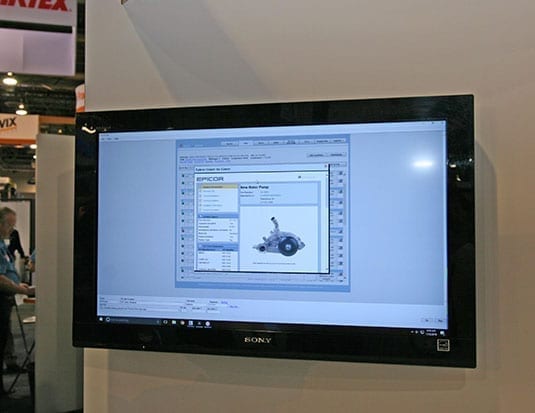 Service levels are calculated by data and lead time. "If you have a part number that's always on back order, it maybe takes a month to get it in," explains Tom. "Whereas the same line for a similar part, you may be able to get the next day, so the lead time is going to vary based upon the supply chain. It's going to calculate the order cycle, the lead time and safety stock, which in turn, calculates an order point.
It's an extra layer, taking your order cycle and safety stock, etc, when looking at stocking levels."
While the basics are simple, if a jobber wants to answer more questions, they can create a more custom analytic. "We set up two days of training on Compass," says Tom. "There are also 36 pre-built videos of training on demand. It allows you to do best practices, get new employees up to speed faster."
Making stock decisions and knowing the depth of your inventory is key to automotive industry success. "Would you rather have a quarter turn inventory or a quarter margin improvement?" asks Tom.
Demographic information
According to Parrish Wood, National Director of Sales and Marketing, Carrus Technologies, many buying groups are using data warehouses and companies that integrate with their software. "That gives very specific demographic information from across the country, in terms of vehicle population, by city, by postal code, and so on," he says. "These reports can then be imported from the data warehouse into our Jobber Management System to give an inventory forecast for what they should be stocking as mins and maxes to meet that supply and demand."
Having these tools allows jobbers to better accurately forecast what their supply should be. "Nowadays, it's not necessarily who has the best part or the best price, it's who has the part available that's going to get the business," notes Parrish. "When I first started in the industry, there were probably 5,000 part numbers that covered 95% of all cars. Now, we're talking millions of part numbers."
The system also has a tool for multi-location parts stores. "If you have locations in various cities, our tool can manage your overstocked items based on your mins and maxes," he explains. "If Store One has 10 of one part, Store Two has two of the same part, and a customer calls Store Two and wants five of that part, usually the counterman will order in the extra parts. With our system, you can run the automatic transfer process nightly to meet the demand of the inventory within the stores. I have one customer who said it would save him thirty thousand dollars a week in buying extra inventory that he doesn't need."
He encourages jobbers to use any technological tools to which they have access. "With some catalogues, there's an interchange tool, where you can type in the part number and it will tell you all the specific applications that the part will fit. For example, if you type in 51515 FRAM filter, you can find out that the filter fits on maybe 30 different vehicles."
Understanding markets
Parrish also suggests that jobbers spend more time with their customers to understand what markets they are trying to serve. "Find out whether they are a general repair facility or specialize in European model-type vehicles, domestic or Japanese specialty," he advices.
Rob Simington, owner, Simington Automotive, says he spends about 40 to 50% of his time on inventory control. "I see what we've had to order in for customers, making sure we have the stock in the future," he says. "If it's brake pads, I always put in brake pads, rotors and calipers since you'll be needing the rotors and calipers eventually. You've got to out-think a lot of this."
Simington has been in the business since 1970 and says he knows what happens as time goes on, particularly with new numbers. "I focus on brakes, chassis and hub bearings. Those are the most popular items going out now, and the product lines that you need to have if you want the sale. The customer can't wait."
He does a significant amount of business with a large local used car dealer, who buys newer used vehicles. "They see the weak points on vehicles and components that are going to be used sooner than many of my garage accounts do." For example, once he has established that the dealer will be buying a large quantity of brake pads, he'll put it into stock. "That way, I'm ahead of the curve as far as my garage accounts go, because in the next year or two, they'll start using these parts."
Manufacturers' reps
Simington's forecasting model isn't based on any technology other than Parts Handler, which he says he's been using "forever." Simington also says that manufacturers' reps can be helpful. "You have to ask them to take a look at your inventory," he adds. "Maybe they can suggest some new numbers.
"I put my faith in a lot of these reps. It's nice to have professional help from people that know their product line better than I do."