On September 19, GEM-CAR hosted its 2018 Convention at the Hampton Inn on Caroga Drive in Mississauga, Ont.
GEM-CAR President and CEO, Mathieu Brunel provided an overview of some of the company's latest developments, including GEM-CRM, GEM-Link, and GEM-Check and outlined many other new features of version 11.
"We are the first shop management software to come with a complete solution that includes a shop management CRM solution plus digital vehicle inspections. In today's world, you shouldn't have to go shopping to different vendors for this. What I like is that the overall cost for repair shops is now more reasonable," explains Brunel.
Another module that proved popular with convention attendees was the quick "look up" by scanning a barcode on a shop supplied plastic key tag featuring the company's logo. This promotional item permits every customer to become an ambassador of the garage when they leave the key on a counter during a social event. Finally, it allows an advisor to scan the barcode on the key tag to open the work order. It's also a great way to know who left a car in the parking lot the night before.
"I implemented the key tag program right away because I thought it was a fantastic idea," said Steve Vieira, Owner, Traditions Auto Service. It is modern and efficient, like having a key tag for your gym. Now I have all the customer's information on their key tag."
Vieira also found the GEM-CRM program to be very beneficial to his business. "I think it's a great natural progression for Gem-Car. It's a fantastic add-on. I am going to call for a demo.
We are now using Autonet TV, and we do use Mechanic-net, so we do have some programs in place, but if we can get it all done under one roof, that would be awesome."
GEM-CRM offers online reviews and reputation marketing, digital promotions and coupons by text and email as well as customer database marketing, and social media content posting. The website is optimized for mobile, and there is a mobile app for service advisors, and users can set up online appointment requests and customer surveys.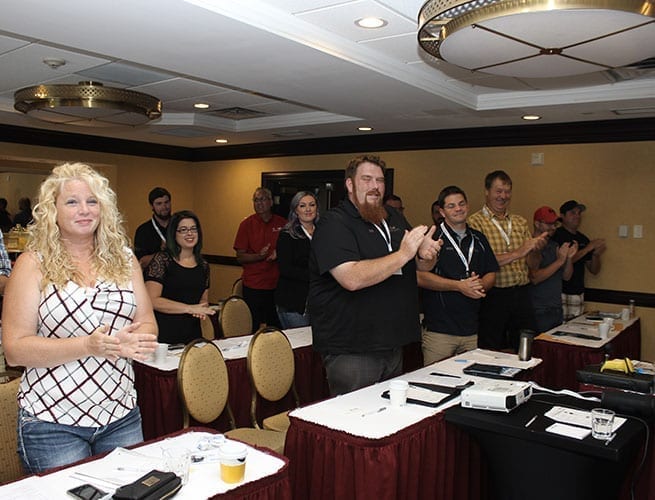 GEM-CAR was recently ranked one of Canada's fastest growing companies by five-year revenue growth. The Growth 500—formerly known as the PROFIT 500—profiles the country's most successful entrepreneurial businesses. The Growth 500 is produced by Canadian Business. Winners are profiled in a special Growth 500 print issue of Canadian Business (packaged with the October issue of Maclean's magazine).
Gem-Check allows technicians to complete the checklist digitally and contains more than 30 inspection forms from an oil change inspection to an electronic diagnostic inspection. A popular inspection is the safety inspection during tire changeover.
"Today we live in a world where pictures and texting are part of our lives; the customer can read the text message referring to the quote which is sent by email. The quote is well presented with pictures and the customer can answer yes to the text message to authorize the repairs," explained Brunel. "Once the job is complete the technicians change the status of the job to completed and automatically it changes the colour within the agenda. This is the signal for the advisor to transfer the work order to the invoice which is automatically sent to the customer."
"The Gem-check is a great addition," added Vieira. "I have been waiting for this to come out because the platforms that are out there are pretty costly. For us we don't need to use it as a tool to increase ROI so didn't make sense to spend $200 – $400 a month on a digital inspection platform. Having Gem-Check at $50/month is a fantastic add-on."
GEM-CAR is now giving back to the schools by supplying them with a GEM-CAR system and some equipment as well such as a wireless barcode scanner for free. So far GEM-CAR has enrolled 10 Schools in this program and has given out over 1,000 GEM-CAR licenses to students. "We need to have young students learning the system, so they will be prepared when they enter the job market. We want to be part of the solution," explained Brunel.
"What I like about GEM-CAR is they are very progressive and always looking for the next thing. They are software people who created a software program for automotive people. Not automotive people who are trying to create a software program to fill a void," explained Vieira. "They are very good at what they do and are quick at taking care of any problems."