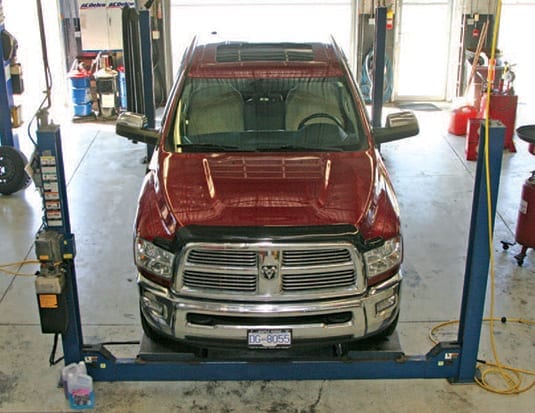 A focus on employees, tools and training has enabled this B.C. shop to stay at the forefront of the North American aftermarket industry.
Scott Waddle grew up in a house where his father was always fixing things, whether it was cars or household appliances.
Although Waddle took the Automotive Service Technician program at Kwantlen Polytechnic University in Surrey, B.C., and has earned both Red Seal and ASE Master Certification, he confesses that "I'm more 'book smart' than 'tech smart.'"
In 1997, having worked at several shops, Waddle felt the way forward was to open his own shop, Precision Auto Service in Langley, B.C. "I've always been interested in business and found ways to make money," he says, "so I took a self-employment course that forced me to come up with a suitable business plan."
For the first nine months, Waddle did almost everything himself. "I had a friend of mine, a technician, who would help me out on evenings and weekends." Then Waddle hired his first full-time employee.
Better expertise
"The key thing is, you need to hire people that are better than you at individual tasks," says Waddle. "As a business manager and owner you should know 'how' to do everything, but you shouldn't be 'doing' everything."
Today, almost 20 years later, Precision Auto Service has established itself as the premier independent service provider within the Langley area. And during that time, the shop has only had 12 different employees.
"We really work at treating our employees as number one," says Waddle. "If we can provide them with a good workplace and they enjoy being here, they will take care of our customers." Waddle points to a board in the administration office that tracks work orders and hours sold. One of his long time technicians shows that customer pay jobs represent 93 percent of his working hours. "I don't have a problem paying him because I know he is producing the work," says Waddle. "This board is the barometer of our business and it shows us that we're on track."
Precision Auto Service is currently the only climate controlled independent service centre in Langley and also boasts five lifts in the main part of the shop (one of which is double-deep) and an additional heavy duty lift next door, designed to handle larger pickups and commercial vans—a staple of Precision's business.
City and country
"What makes our market in Langley unique is that we are on the edge of both city and country," says Waddle. "A lot of tradespeople live in this area and they need land to store their trucks and equipment, which is very expensive in Metro Vancouver." As a result, the shop has become somewhat of a specialist in diesel engine pickups and Mercedes-Benz sprinter vans. And that has required investment in the right tools and training to properly diagnose and tackle diesel related issues.
"We have invested in factory scan tools from Fiat Chrysler Automobiles, Ford, General Motors, Mercedes-Benz and Toyota. The diesel engines require more specialized diagnostics, and we've found that aftermarket coverage doesn't tend to be as complete."