The recent acquisition of a major network of mechanical and auto glass services by Fix Auto will allow the franchiser to diversify and consolidate their operations. 
Prime CarCare Group was acquired last May by Steve Leal, President and CEO of Fix Auto Canada. His desire and commitment in harnessing the synergies between the collision and mechanical repair sectors was communicated loud and clear at the Prime CarCare Group Annual Conference. A new entity and brand, Fix Automotive Network, will be formed, encompassing the Speedy, Novus Auto Glass , Minute Muffler & Brake and Fix Auto banners.
Over 50 mechanical and glass service providers of these banners were on-hand at the Westin de Montreal Hotel to hear a brief review of Steve Leal's business career, but more importantly, he shared his vision of what the future holds for the newly-acquired network, under the Conference theme "Moving Forwardˮ.
After Steve Leal reviewed the progress of the Fix Auto network since its acquisition back in 2012, he then detailed the company strategy going forward. "The collision and mechanical repair sectors are complimentary, we can help the mechanical service and auto glass service providers benefit from the important volume of vehicles cycling through our Fix Auto shops.ˮ
Obvious Synergies
The available synergies are obvious. In most cases, collision repair shops sublet a huge volume of mechanical and auto glass services, which holds a huge potential for network partners to keep these revenues inside the group.
In addition, the Fix Auto President insists on the importance of supplying a uniform service experience across all of the network stores, no matter which banner. The goal is to deliver a seamless, quality experience for the customer across the board. Keeping customers inside a network that provides a consistent, quality customer-service experience is a winning proposition for Fix Auto collision repair partners.
Customer-Focused
In a CarCare Business interview held during the Conference, Michel Bourgeois, Vice-President and General Manager Fix Auto Quebec, was obviously very enthusiastic about these latest developments. " These sectors are extremely complementary. We now have recognized automotive service franchises that can work together to deliver every vehicle service imaginable under one roof. This is amazingly practical for customers!ˮ
Currently, the number of Minute Muffler & Brake, Service Auto Speedy and Novus franchises is modest in Quebec. Michel Bourgeois is very confident that their number will grow rapidly over the next few years.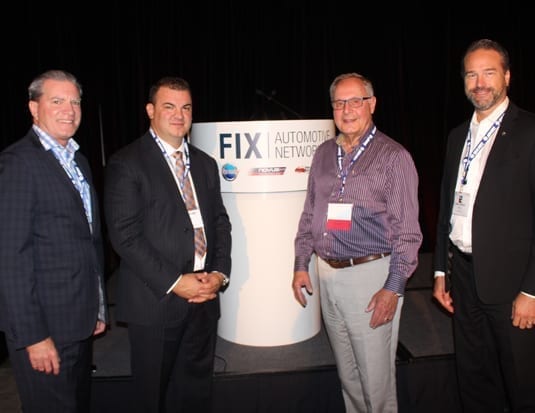 Back in the 90's, Speedy Auto Service locations in Canada numbered over one thousand, compared to 150 today. The Fix Automotive Network officials have a plan to reverse this situation. The strategy includes the addition of new Speedy Auto Service, Minute Muffler & Brake and Novus locations, as well as the conversion of existing shops.
The growth may also go through another channel, as Fix Auto collision shops will have the possibility of adding glass and mechanical services to their existing collision services.
In fact, as Steve Leal mentioned earlier, the main idea is, if the Fix Automotive Network is to provide every core automotive aftermarket service, it may as well be with established brands that excel in their individual specialties.