KIA Canada's Fleet Services team welcomed a group of 30 fleet managers to the Sheraton Hotel in Laval on October 8 to present the brand's eight flagship models along with the full suite of accompanying services.
The Korean brand, which is celebrating its 20th anniversary in Canada, is expanding the footprint of its Kia Fleet program among Canadian businesses and organizations. Quality products, backed by a comprehensive, simple and flexible service offering: this is how the Kia team summarized the many benefits available to fleet managers.
The presentation included a series of demo drives on busy Laval streets, which provided an opportunity to sample the handling and performance of the vehicles, including the quality of Kia's advanced driver assistance systems. The manufacturer's feature product, the all-electric Soul, was used to challenge the participant's driving skills, as they were required to drive around a closed circuit in reverse using the backup camera screen as their soul visual support.
Dedicated Fleet Team
In addition to celebrating their 20th anniversary this year, Kia Canada will also reach an important sales milestone, one million units sold, which was achieved in record time. Kia has also been recognized as the "Best Mass Market Brand" for the fifth consecutive year.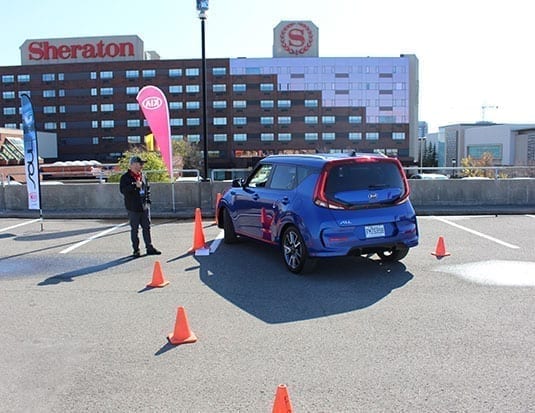 As for the companies and organizations who choose Kia as their fleet partner, the benefits are twofold; it starts with the centralized Kia Fleet service, explained in detail at kiafleet.ca, in both official languages, and is followed up by convenient aftersales service delivered by local Kia dealers.
As Kia National Fleet Sales Director Stéphanie explained, this relatively young and dynamic brand has the flexibility to listen closely to the needs of its customers and offer services and solutions adapted to their specific requirements.
"We're easy to work with. From the initial, centralized ordering and follow-up right through to final delivery. This is what sets us apart from the ginormous vehicle brands also present in the Canadian market, our business model is predicated on building close-knit working relationships with fleet managers and working with them to develop products and solutions that meet their specific needs in a timely manner.
One-Stop Brand
Kia products are backed by a 5-year 100,000 km warranty. The model lineup also features Kia's advanced UVO connected car services, which are fully integrated into the vehicle infotainment screen, and provided free of charge for the first five years.
Noteworthy UVO features offers remote vehicle updates and services including the ability to lock or unlock doors, raise or lower door windows, activate heating and A/C and remote engine starting, among others. The application also includes live emergency assistance services in the event of a collision.
[wds id="781″]