Toyota's VP discusses his view of hydrogen as a future fuel for Canadian vehicles.
With more than a decade of experience in leadership positions, Stephen Beatty, Vice President and Corporate Secretary of Toyota Canada, is on the front lines in his company's initiative to create more hydrogen fuel cell vehicles and associated fueling stations across Canada.
"Toyota has been working on hydrogen fuel cell technology for the last couple of decades now in Japan, and has always seen fuel cells as part of the solution for future needs to decarbonize transportation," he says.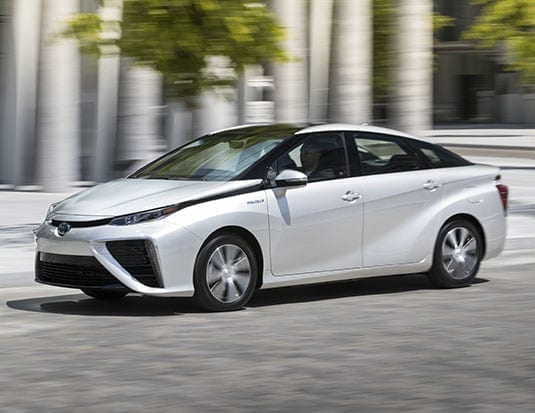 Know thy audience
To understand the viability of hydrogen, two things need to be examined: the benefits and the customer.
With much of the industry moving towards electrification, hydrogen fuel cell technology seems like a logical next step. Some of the benefits of using hydrogen as a fuel include cleaner emissions, lower noise, smoother and faster acceleration with more torque, and no lengthy recharging times—like the ones seen with battery electric vehicles.
"The real benefit is that the technology is very scalable," Beatty explains. "It can be used in cars, but also in trains and ships and forklift trucks. In fact, the bigger, heavier and further the vehicle goes, the more hydrogen is the clear winner in the types of application of electrification that we can think of."
That said, these benefits need to be marketed better to consumers, so they are more willing to choose hydrogen fuel cell technology when purchasing a vehicle. "My short-term goals are essentially to have proof of concept in the marketplace, so people can see these vehicles, can experience them and can understand what the technology is, what the benefits are and just what a seamless transition it is for people to move from an internal combustion vehicle to a hydrogen fuel cell vehicle."
Looking to the future
With the building of hydrogen fueling stations already underway in Montreal, Quebec City and now B.C., Beatty hopes the completion of these projects will bring with it a better understanding of the technology, which will, in turn, be shared by jurisdictions across the country.
"Our job over the next several years is to make sure that every jurisdiction in the country is as welcoming to hydrogen fuel cell technology as B.C. and Quebec. The critical issue will be how do we create the distribution of fueling stations in the major urban centres in the country, and then how do we start thinking about the intermediate points between them to connect the network.
"Over the longer term, we want to continue to see fueling infrastructure being rolled out across Canada. But it's going to be a slow process. That's one of the reasons why it makes sense to focus on fleet operators in the early stages of this endeavour, to centralize fueling infrastructures and, over time, build up that network."
Beatty believes that in the foreseeable future, Canada's transportation landscape is going to see electrification. "Whether that's hybridization, whether that's plug-in battery or whether it's fuel cell, it's all the same thing. It's about reducing carbon by employing more and more electricity to drive vehicles."