Ford has updated its commercial vehicle lineup, with new technology, new engines, and the new cars, F-600 Super Duty and 2020 Ford Transit.
Ford is adding new engines and smart new driver-assist technology across its commercial vehicle lineup, which will include better connectivity with factory-installed modems offering 4G LTE WiFi on all vehicles that allow for up to 10 devices to be connected.
This connectivity enables fleets to take advantage of the new Ford Telematics and Ford Data Services that will help operate their fleets more efficiently. Fleet managers will be able to use these services to enhance uptime and asset utilization with easy-to-use features like GPS tracking with order-to-delivery status, and  geofencing with alerts; optimize running costs, such as fuel waste reporting; improve driver behaviour, such as ensuring seat belt use and speed compliance; and protect their fleets using Ford OEM-grade telematics software, integrating with the company's existing telematics service provider or accepting vehicle data directly into their own IT systems.
These updates to their entire commercial lineup, which includes Transit, Super Duty chassis cab, Medium Duty trucks, E-Series, and stripped chassis, began 13 months ago and debuted at The Work Truck Show in Indianapolis.
"For 34 years, Ford has consistently sold more commercial vehicles every year than any other manufacturer because we listen to our customers then get to work developing the products and technologies they need," said Mark Buzzell, Ford Director of Fleet, Lease and Remarketing Operations. "The updates we're announcing today were driven by our customers' focus on improving safety, reducing cost, and increasing uptime and productivity. Giving our customers the freshest lineup plus driver-assist technologies and connectivity is a great example of Ford delivering smart vehicles for a smart world."
All commercial vehicles will come with smart new driver-assist technologies including automatic emergency braking to help drivers avoid collisions and improve overall fleet performance. Some optional elements are electronic stability, Driver Alert system and auto high-beam headlamps, among other features, with Ford Co-Pilot360 technologies available on new model year commercial vehicles.
The F-650 and F-750 medium trucks, plus E-Series and F-53 and F-59 stripped chassis have standard traction control, hill start assists and auto headlamps. They also come with the new 7.3-litre V8 gasoline engine that generates more torque and power than the 6.8-litre V10 engine it is replacing, resulting in less downtime at the shop and lower long-term ownership costs.
F-600 Series
The F-600 series is the same size as an F-550 but with upgraded driveline and chassis components, delivering a capability of a Class 6 truck with a maximum GVWR of 22,000 lbs. It can operate on gasoline or diesel powertrains and 4×2 or 4×4 drivetrains.
Customers can also select from three engines the 7.3-liter gas V8, a third-generation 6.7-liter Power Stroke diesel or a 6.2-liter gas V8, all of which come with 10-speed TorqShift automatic transmission providing up to 300 lb-ft of torque.
The F-600 can be ordered in early 2020 and will be available to purchase in mid-2020.
The 2020 Ford Transit
New features for the Ford Transit include driver-assist features, like Pre-Collision Assist with automatic braking and Ford Co-Pilot360 technologies. Other enhanced features are the active park assist allowing for parallel or reverse perpendicular parking, front and rear split-view camera and an adjustable speed limiting device.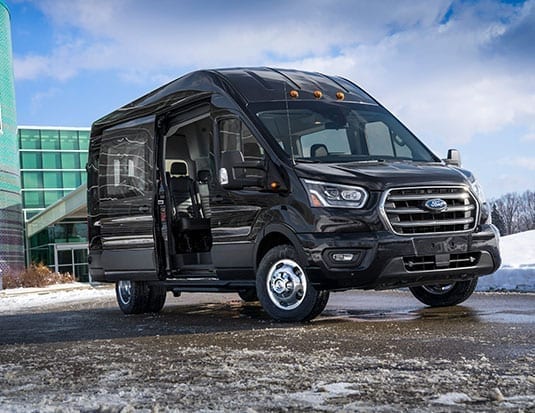 It also offers an intelligent all-wheel-drive system that provides improved traction on icy, snowy, or muddy roads, optimizing torque output with the capability of sending up to 100% of available torque to the front wheels to help prevent slipping on loose surfaces.
"We integrated Transit's new all-wheel-drive system into the vehicle design early on to ensure it does not raise the load floor or seat height, making this van configuration as easy to enter and exit as the standard rear-wheel-drive model," said Ray Eyles, Ford Transit Chief Program Engineer. "This is a significant benefit for commercial drivers who are in and out of their vehicles dozens of times a day, as well as for shuttle bus passengers and families."
Upgrades also highlight a 2.0-litre Eco Blue bi-turbo I4 diesel, all-new 3.5-liter PFDi V6 gasoline engine with port fuel and direct injection and new 10-speed automatic transmission, which means it's more fuel-efficient.
Interiors include new fabrics, new instrument panel, an 8-inch touch screen with SYNC 3, and seating for five. Exterior updates include a power sliding door.
The new 2020 Ford Transit will ship this fall to Ford's nationwide network of 3,000 dealers, including more than 675 dedicated Commercial Vehicle Centre locations.
F-650 and F-750 Medium Duty
Customers have a choice between the new 7.3-litre gas engine and a 6.7-litre Power Stroke V8 diesel, both of which come with Ford's 6-speed TorqShift heavy-duty automatic transmission.
The interior is also upgraded with an updated instrument panel with Bluetooth functionality and USB ports.
Production of 2021 F-650 and F-750 series begins in early January 2020.
E-Series
The interior features are updated similarly to that of the F-650 and F-750 Medium Duty vehicles, with a new upfitter interface module to provide a smoother experience with the installed equipment.
The 7.3-litre V8 engine lets customers choose between two unique engine calibrations for the best horsepower and torque they require. The E-Series comes with a maximum GVWR of 14,500 pounds.
The new E-Series will be available in 2021.
Stripped Chassis
Lastly, the Stripped Chassis will get new standard content to improve steering, an upgraded center of gravity on higher GVWR models and deliver an improved driving experience. Both F-53 and F-59 will also get new instrument panels.