Calgary dealer is proud to be the first full Red Cube store in the west.
When Chris Tonkin first laid eyes on the faded, run-down building that was destined to be his new Kia store, he knew it was time to make a big change.
"It had a very odd shape to it, and with its prime location in the Calgary Auto Mall, it made sense to make a fresh start," says Tonkin, the Dealer Principal of Straightline Kia in Calgary. So he hired a bulldozer and took out the entire front end of the building. Ten months later, in April of 2019, Tonkin opened the doors to the very first full Kia Red Cube dealership in western Canada.
Today, the store's exterior panels sport the trademark bold red Kia colours, with the Kia ellipse logo featured throughout against contrasting white. The expansive showroom is fronted by enormous glass windows that allow natural light to stream in and spotlight the new models. "The white letters really pop against the deep red background," says Tonkin. "We have a ton of glass frontage and lots of natural light. The showroom is bright, clean, very well lit, which gives a fresh, transparent look to it."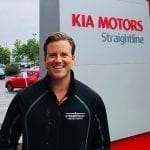 Welcomed by staff
All offices have glass walls, while the floors and other walls are bright white. The interior showroom tile features the Kia ellipse shape, which is repeated throughout the facility.
Although there were some challenges around the architecture of the glasswork, everything eventually worked out. The change was particularly welcomed by staff, who had to spend a Calgary winter working out of a trailer. "We had a 30 foot trailer holding our sales team," recalls Tonkin. "It was minus 30, and everything was covered in snow."
Tonkin first saw the new Kia look at Playa Del Carmen in Mexico, and liked the new look. "Kia's global image program means that all the stores will eventually look the same around the world," he notes. "I think it's outstanding. The amount of architecture that was put into this program is excellent."
There are four Kia dealers in Calgary, and Tonkin is the first to have a full Red Cube facility. "Our store is about 19,000 square feet, and every inch of customer-facing square footage has been completely renovated and redone," he says. When the showroom was launched, staff wore red Straightline Kia polo golf shirts. "That made us all pretty quickly identifiable," Tonkin chuckles. "Everyone has bright red Straightline Kia windbreakers and jackets as well."
CSI boost
Straightline Kia is the first dealership people see when they pull into the Calgary Auto Mall. "Our big, bright store really pops," says Tonkin. "And when people come in, our open layout with clean white tiling and natural light is exceptional. We have a big garage door that pops open. There's fresh air, music and great technology."
Last year, Straightline Kia earned Dealer of the Year in Alberta, for all Kia stores. "That meant a lot to us," says Tonkin. "Our customer experience is definitely exceptional right now. We're noticing our CSI ratings increase. When people walk in, especially if they haven't been here for a while, they're blown away by the new facilities."
Tonkin emphasizes that his staff operate on a very transparent, open and honest basis. "We want all of our customers to have a lot of fun," he says. "We operate on a very low pressure environment, just providing good information so customers make their own decisions. We want them to have a great experience while they're going through that process, and it's been paying off for us."
An important component of the Red Cube program is providing customers with amenities. "Our customers have both a café area with high top tables and a lounge where they can hang out with a big screen tv," says Tonkin. "There's also an Internet charging bar and workstation with Wifi. Customers have options of what they can do while waiting for their vehicles."
Electronic test drive
Customers can also take an electronic test drive of cars without leaving the showroom. "They can play with the sunroof and the screens with Apple Car Play, or check out the backup camera without having to drive the car if it's a rainy or snowy day," says Tonkin. "We get some bad weather here in Calgary, and there are some days where people just don't want to drive in the climate. The technology that has gone into the showroom to change the customer experience has been great for us." While this wasn't part of the mandated Red Cube facility, Tonkin incorporated this extra to enhance the customer experience.
The support from Kia Canada has been great. "Their whole team flew out to see the facility in May, and they were ecstatic," says Tonkin. He has volunteered his store for other Kia dealers to visit and do a site walk, to see what they might want to do when they change their own stores. "I've had a number of dealers come in and have a peek and do a walk-through, getting some ideas."
The store has been in constant growth mode. "That's how we want to proceed," says Tonkin. "We have the right facility to do that for the next five to 10 years."