With only ten of these Canadian supercars available for sale, customers can count on having a true one-of-a-kind experience.
A total of only 10 cB7R models will be built for customers who pre-ordered their vehicles. This is the first FELINO model certified for retail sale and for use on public roads. Three prototypes were developed and tested by the independent vehicle manufacturer before arriving at this third-generation product presented in January at the Montreal Auto Show.
"We are proud to produce this high-performance supercar designed and built here in Canada," says FELINO CEO Antoine Bessette.
100% hand-built
The team of engineers, operating out of the Laval, Quebec production facility, is working hard to develop a custom-built model for each of the 10 buyers. At FELINO, everything is hand-built and assembled. Nothing is automated.
"We design and build most of the components and systems for our vehicles, including suspensions, seating, lighting… while paying strict attention to every detail. For the remaining components, we use the best suppliers in the industry," Bessette explains, noting that his team has even developed an in-house manufacturing process, including a list of components required to produce its CKM chassis, made of carbon fibre, Kevlar and various metals.
"The list of available options for the cB7R is limitless," Bessette adds. "We can, for example, cast the seats to fit the contours of the customer's body. This option results in superior ergonomics and increased integration between car and driver. The cB7R is custom built to suit the customer's requirements. Whether they wish to drive exclusively on racetracks or use it on public roads, the car will be manufactured accordingly."
The company builds an average of four to six vehicles per year to satisfy those customers looking for exclusivity. "For the time being, we plan to make a production run of ten vehicles per model. We are committed to remaining in the 'small production run' market," Bessette explains.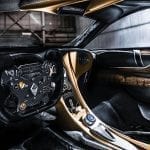 "Affordable" exclusivity
While the base price of the FELINO cB7R is $365,000, depending on options, it can easily climb to over half a million dollars.
"Some people find it expensive, while others don't, especially when you consider the product's level of exclusivity. It depends on the type of customer and their specific needs. When we compare our vehicles to other independent manufacturers in this market, it's not that expensive," Bessette says, citing brands such as Pagani and Zenvo as examples, since their cars can be priced well over $1 million.
"These are our direct competitors for those looking for exclusivity," Bessette adds, "but when you only consider the price, we compare ourselves to exotic brands like Lamborghini or Ferrari. We don't really have any direct competitors."
Western Canada market
When equipped with the optional normally-aspirated V8 engine, which produces 700 horsepower and 580 lb-ft of torque, and boasts a 0-100 km/h time of 2.9-seconds, you wouldn't expect the FELINO cB7R to be making too many grocery runs. "You can go to the nearest track or drive it on the highway if you so desire, but that's not usually what our customers are looking for," jokes Bessette.
While the cB7R is designed primarily for the track, the car attracts collectors in the market for a high-performance vehicle that offers a truly unique driving experience. FELINO's customer base is in Western Canada. "There is a huge market for supercars out there. We are trying to sell them here in Quebec, but it's harder, mainly because of the winter road conditions. Ultimately, we would like to sell vehicles across the globe, but we really need to consolidate our Canadian customer base before branching out."
Form follows function
Inside the supercar, the sitting position has the driver stretched out horizontally, almost flat on his/her back. "It's a formula-type race car position," explains Bessette, who raced cars before launching his own company.
"When you compare it to the current offerings in the market, it really stands out," adds Sales Director Nicolas Danis-Godard. "The engine also attracts attention since it is normally aspirated. Usually, engines that produce this much power are turbocharged. That is another thing that sets us apart."
The FELINO experience
The FELINO experience doesn't stop at the sale. "Many collectors own eight or nine rare vehicles that never leave their parking garages," Bessette says. "What we want is to encourage customers to drive their cB7R by accompanying them and giving them professional driving tips. For example, we bring those who wish to benefit from these driving tips to the Area 27 racetrack out in British Columbia, a track designed by Jacques Villeneuve."
In the short term, FELINO plans to release a new model in 2020, the cB7+, available, once again, for only ten buyers. As for long-term plans, could there be an all-electric supercar in the works? "We're thinking about it," Bessette admits, "but it won't be any time soon."