The secret to Campus Nissan's award-winning BEV sales figures is their ability to help consumers overcome the anxiety some feel about owning an EV.
The auto industry is becoming greener with more eco-friendly products, but consumers are still nervous about purchasing an electric vehicle. Campus Nissan, though, is slowly changing people's views. This year alone, the dealership has received the Global Electric Vehicle Leader Award and Plug'n Drive's Leading Battery Electric Vehicle Dealership Award. And recently, it was presented with a CEVforBC Green Star Dealers Award, for top Battery- Electric Vehicle Sales in 2018, by the New Car Dealers Association (NCDA) of British Columbia.
"Increased ownership of electric vehicles is integral to reducing B.C.'s greenhouse gas emissions," says Michelle Mungall, Minister of Energy, Mines and Petroleum Resources. "I congratulate the winners of the 2018 CEVforBC Green Star Dealer Awards and thank them for their leadership in helping ensure a more sustainable future."
Understanding the consumer
Campus Nissan has been in the business for more than 42 years and was previously managed by Dick Graham, until Brad Ostermann, the current General Manager of Campus Auto Groups, joined in 2011. The Nissan LEAF also came to the Canadian market that year as the brand's first electric vehicle, and Campus Nissan was quick to take on the franchise.
"We've been selling [the LEAF] since its launch. We sort of realized early on that [selling electric vehicles required] fear management. There was anxiety around the expense, the range, the long-term viability, and the charging infrastructure. So, we sort of looked at each of those aspects of the transaction and started to whittle away," says Ostermann.
To ease this anxiety, Campus Nissan uses all types of marketing channels, from social media and digital platforms to traditional advertising in print and radio, to promote the LEAF. However, la pièce de résistance is the dealership's community sponsorship of charging stations. Providing chargers to customers to install at their homes is not only a progressive gimmick, but it helps customers feel more secure with their purchase.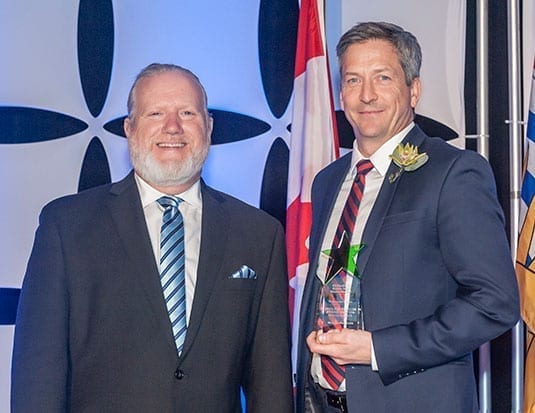 "We support charging station initiatives; we sponsor a lot of community events; we partner with anyone who reaches out; and, we really try to educate [consumers] on the benefits of electric vehicles," Ostermann explains.
He also states that a large part of marketing is what the dealership should look like when consumers come in and how a dealership ultimately handles its clients.
"We try to treat our clients as honoured guests. If you were having honoured guests over to your house, then how would you set the stage?" he asks. "It's creating a relationship. It's important because if people are making a change from one form of transportation to another, there's anxiety involved. We have to get to know that person, understand what their main motivations are, and how they're going to use that vehicle."
Ground zero
Location is a key factor to consider. Right now, B.C. is one of the few provinces in Canada that is pushing for an increase in charging infrastructure and offering government incentives on electric vehicles (EVs), reducing the overall purchasing cost significantly. These federal and provincial rebates further lower consumer anxiety in terms of price.
Ostermann adds, "Victoria is ground zero for electric vehicle sales because we're on an island, so the average kilometres driven per year by our clients is lower than most markets, which means that the daily drive is significantly lower than in most markets. So, there's less range anxiety. We also have 13 different municipalities within the capital region that are eager to put in infrastructure, and when you have a lot of municipalities competing for [that], you get a really great electric vehicle infrastructure."
Victoria, B.C. also has a temperate climate, which helps with the longevity of battery life and, therefore, allows for more sales of pre-owned battery electric vehicles.
The heart of the dealership
Still, location is not as important as the people, says Ostermann, who successfully promoted the sale of battery-electric vehicles and who invested a lot of time and effort into helping customers come to terms with the shift from internal combustion engines to electric cars.
"It's a team effort. Without the dedication of every single individual employee of Campus Nissan, we don't have the opportunity to impact the market in the way that we have," he says. "It's the commitment on the part of the sales management team, led by our General Sales Manager, to educate the team, to provide an excellent level of service, and to create a comfortable environment where people can make a significant change in their vehicle ownership patterns. Without every member of the team dedicated to it, it doesn't work. That's basically the secret."
That said, winning the Green Star Dealers Award is no small feat, and Ostermann credits the team at Campus Nissan for the achievement.
"It's great to be recognized. You work so hard towards a goal, and that goal is promoting electric vehicles in your market, and the success of that is obviously the volume sales and the number of people that are driving those vehicles. [The NCDA] award is a direct reflection of that success," concludes Ostermann.