Auto shows, social media, and dealers are key to selling the GT-R.
Fifty years ago, Nissan unleashed two sports cars that would become legendary among fans: the GT-R and the Datsun 240Z. To commemorate this special half-century anniversary, the company has produced a special 50th anniversary editions of both for 2020.
Both cars made their world debuts earlier this year at the New York International Auto Show, with a special media event the night before, and then an appearance at the show's media day by race driver Peter Brock, whose Brock Racing Enterprises took the 240Z to the track when it first arrived in the United States in 1970 and helped to popularize it with North American buyers.
The company's booth at the auto show was dubbed the "Nissan Dream Garage," a multi-level display that included an original Fairlady Z, R34 Skyline GT-R race car, and Skyline 2000GT-R, along with a 2018 GT-R prototype customized by Italdesign. These displays are key to Nissan's success with its top-line sports coupe and its appeal to the public.
Unique trim for 50 years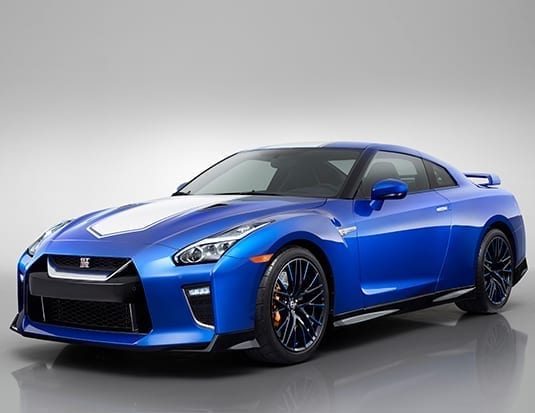 The GT-R 50th anniversary is based on the Premium trim, which has turbocharger and exhaust improvements for better engine response, unique seat embroidery and Alcantara headliner stitching, unique steering wheel and shifter knob trim, and a choice of white with red stripes, silver with white stripes, or the return of the previously-retired Bayside Wangan Blue with white stripes.
The cars will go on sale in Canada this summer, and while pricing hadn't been announced at press time, it will be somewhere between the Premium trim and the higher-horsepower, top-line Track Edition level prices, which for 2019 are $126,100 and $150,200, respectively.
The GT-R uses a 3.8-litre twin-turbo V6 that makes 565 horsepower and 467 lb-ft of torque (the Track Edition makes 600 horsepower and 481 lb-ft), mated to a six-speed dual-clutch transmission and with all-wheel drive. Of Nissan's 210 dealers across Canada, 49 are equipped to sell and service the GT-R.
One man, one engine
The name was originally applied to the Nissan Skyline and was sold in Japan. It didn't come to North America until a new edition with twin-turbo V6 was launched in 2008. An Australian motoring magazine dubbed it "Godzilla," a name that Nissan immediately took to heart. Each engine is hand-built by one of just four craftsmen, whose name goes into a plaque on top of it.
"The buyer will obviously be someone who has noticed GT-R for a long period of time, and they're into elite sports cars," said Steve Rhind, Director of Marketing for Nissan Canada. "I think it's going to be both conquest and existing customers. There will be a lot who've had a GT-R before and like the exclusivity [of the 50th Anniversary], but others will discover it and will be blown away by the uniqueness of it."
The GT-R is a low-volume halo car—Nissan sold 72 of them in Canada last year—and as such, the company doesn't use mainstream channels to make buyers aware of it. "We haven't done GT-R campaigns for a number of years," Rhind said. "It gets exposure through the auto shows, online, our website, and social media. It's a balance between the volume we sell and using GT-R at auto shows to get people excited about it."
Dealers will promote the cars
Nissan isn't planning to do any special marketing campaign around the 50th Anniversary. "The unveiling in New York gave us some exposure, and beyond that, it's going into the hands of our dealers, who will use it in their own marketing campaigns," Rhind said. "That may be directly to their own GT-R owners, or showing it in the dealership and promoting it in social channels that they have one available."
The 370Z 50th anniversary edition is based on the 370Z Coupe Sport trim and comes in either silver and black, or in red and white livery that pays homage to the Brock Racing Enterprises car. It includes accent stripes, decals, anniversary badging, and leather and suede sport seats highlighted with anniversary embossing. The 370Z Sport Coupe starts at $34,698, while the 50th anniversary edition is $37,398.
Somewhat surprisingly, the GT-R 50th Anniversary isn't restricted, while the 370Z 50th anniversary is limited to 50 units in Canada, all of them numbered with an interior plaque, and all of them spoken for by dealers.
"It's about the volume we sell," Rhind said. "We sell more of the 370Z in total, and so there's a very exclusive number that can be manufactured from a capacity standpoint. With the GT-R, there's simply more production capacity available, and given its price point, we had the option so we said let's make more of these available. It sounds a little odd [to limit one but not the other], but it's based on capacity."
Rhind said that dealers are excited by the limited editions, especially since the company has some that have been in business for more than half a century. One dealer, Half-Way Motors Nissan in Thunder Bay, Ontario, has a personal collection of Datsun and Nissan Z cars, dating back to the 1970s.
While he wouldn't estimate exact numbers for GT-R sales, Rhind expects the 2020 50th anniversary edition to account for about half of the car's sales overall in Canada.