Recruitment for the INFINITI Engineering Academy 2019 closed with 10 Canadian finalists competing for one of the seven, one-year placements with INFINITI and Renault F1 Team.
The recruitment phase of the INFINITI Engineering Academy (IEA) 2019 Canadian final closes with a 15% increase in registration compared to that of 2018.
Formula One is engineering in the form of motorsport at the highest level. It's also very difficult to start a career in F1; teams can hire talent from around the world, so standing out from the crowd is almost impossible. The INFINITI Engineering Academy is a one-of-a-kind opportunity for up and coming engineers in Canada to have a chance to get exposure to, and work for INFINITI and Renault F1® Team," says Adam Paterson, Managing Director of INFINITI Canada. "We are very proud to see that engineering schools across Canada recognize the rare opportunity IEA provides, with the number of registrations from Canadian students increasing each year."
2019 Top 10 Canadian finalists:
The top ten finalists are comprised of students from across Canada, including British Columbia, Alberta, Manitoba, Ontario, and Quebec.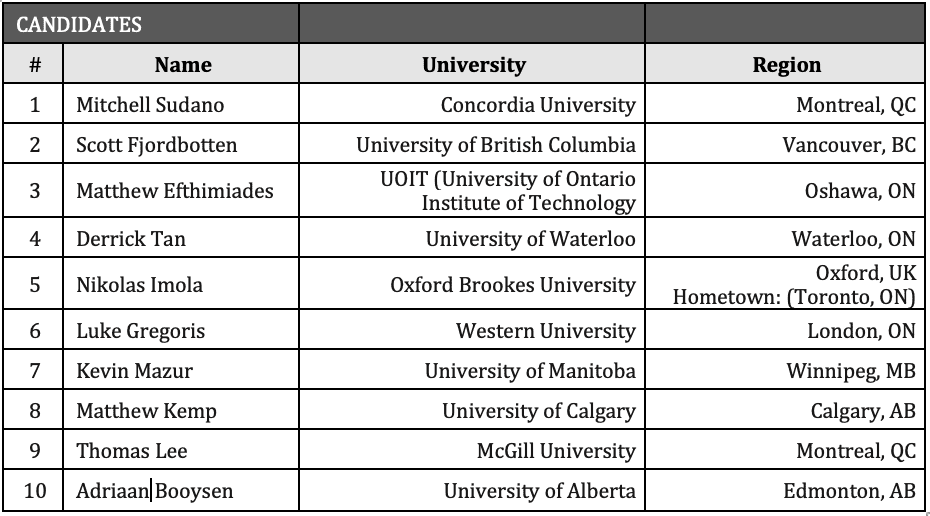 The 2019 Canadian finals will be the first of seven final events taking place across the globe, starting in Montreal on June 5thand 6th, where each finalist will compete in various challenges at the Luciani INFINITI dealership in Montreal. These challenges include building a small-scale prototype car, interviews, and a relatively new decision-making test that will determine how the engineers perform under pressure when dealing with large amounts of complex data.
Only three from the original ten finalists will be chosen to participate at the trackside final at the Circuit Gilles-Villeneuve on the second day of the event. Those three engineers will be given access to Renault F1 Team's pit lane, garage, and paddock areas before the FORMULA 1 PIRELLI GRAND PRIX DU CANADA 2019, where they will compete to complete challenges, while supervised by drivers Nico Hülkenberg, Daniel Riccardo, and other members of Renault F1 Team.
The winner will be declared on Thursday, earning the highly sought-after year-long placement available for Canadians, working six months with INFINITI and six months with Renault F1 Team in the United Kingdom.
Much like the 2017 Canadian IEA winner, Matthew Crossan, this opportunity could lead to full-time employment for the Renault F1 Team.
"This is our fourth year hosting the INFINITI Engineering Academy in Canada, and it's always exciting to see some of Canada's top engineering students participate, exploring their potential to work in Formula One™," concluded Paterson. "With every year the IEA program runs in Canada, that's another year of Canadian talent contributing to INFINITI and Renault F1 Team."