Calgary is home to the new benchmark for Cadillac's standalone dealership architecture.
The gala opening of the new Carter Cadillac dealership in Calgary took place amid freezing February weather. The ribbon-cutting party of Jay McKeen, Managing Partner, and Steve Carlisle, President of Cadillac's global operations, dashed outside, posed for the cameras and swiftly retreated to the warmth of the imposing new structure.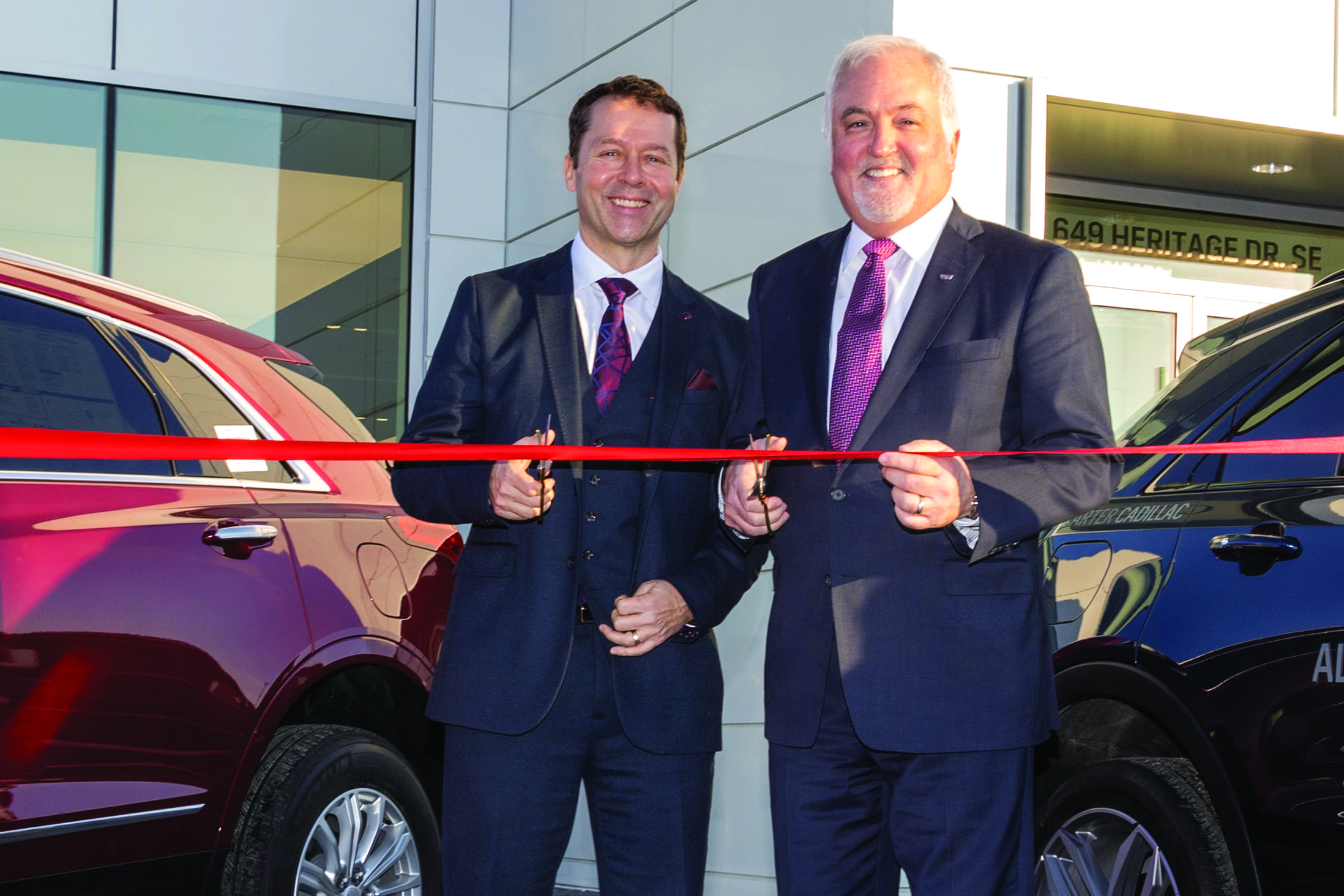 Carter's customers will have little need to brave the elements, however. With 50,000 sq ft spread over three floors, there's enough room inside for two showrooms, a basement containing yet more new-vehicle inventory and even a drive-through indoor service reception area, for those who don't wish to take advantage of free vehicle collection and delivery.
If that all sounds like the recipe for a new sort of Cadillac dealership—"the Cadillac of dealerships," in McKeen's words—that's because it is. Carter Cadillac is the first North American and, at the time of writing, largest worldwide embodiment of Cadillac's new standalone dealership architecture. The goal is a luxurious client experience worthy of a reinvigorated and expanded product range.
The new facility has also extended Cadillac's dealership playbook. Originally conceived as a single-storey building, its scope expanded when Cadillac and McKeen noted that a taller structure would make a bigger impression on a compact, sub-2-acre, hilltop site that is visible from the busy Deerfoot Trail highway and slots into a row of prestige dealerships that sell everything from Alfa Romeos to Porsches. The resulting two-storey design is now Cadillac-approved for dealers elsewhere, who are also at liberty to add a basement where the site makes sense, as Carter has done.
New sales approach
The main floor consists of a light, open, runway-inspired showroom with comfortable, informal seating areas—with not a sales office in sight.
"As a customer, you can feel like there's always someone watching you," says Carter Cadillac's Director of Operations, Kevin Duriaux. "We wanted to make car shopping fun again, create an environment where you can take your time and have people who will help you without an agenda."
Duriaux previously managed Western Region sales and marketing for Cadillac Canada and is familiar with manager-free deal-making from his time working in Switzerland.
"The most dissatisfying parts of buying are the F&I process and some of the closing techniques," he says, "so I was very pleased when Jay told me that he wanted one person to handle the entire process from start to finish.
"Everyone is welcomed here by a concierge. You can consult directly [with sales staff] on the showroom floor, but you can also come into one of the offices to talk numbers or credit applications. When the car is ready, we have two private delivery rooms in which to do the paperwork, always with an eye on the car, and then the customer can drive away."
Classic meets modern
Adjoining the offices behind the showroom floor is a spacious lounge that brings sales and service customers together. They can choose relaxed seating or workstations with WiFi, as well as high-end refreshments—sparkling water in glass bottles, a selection of teas and coffees served in porcelain mugs, and fresh fruit and baked goods.
The second-floor showroom is dedicated to the expanding range of V-series performance and a handful of classic Cadillacs from the Jack Carter private collection. The adjacent virtual reality room is consistent with the theme of marrying Cadillac's heritage with future technology.
"Cadillac has developed an incredible program that enables us to demonstrate upcoming vehicles like the new XT6," says Duriaux. "Customers will be able to virtually interact with the vehicle. With enhancements down the road, it could also become a way to build a factory order. You'll be able to visualize the impact of a panoramic sunroof, for example, rather than only see it on a piece of paper."
Next door is a conference room with a 17 ft table, one of two custom-made locally by one of several Calgary companies that are being supported by the new dealership. It's expected that the meeting space will also be offered to local charity groups.
Also on the second floor are back-office and administrative functions to support the 25 staff—a figure expected to grow rapidly—as well as an overflow parts and winter-tire storage area that can be reached by forklift from below.
"When I was visiting dealers for Cadillac Canada, it was common for them to not have enough parts storage," observes Duriaux. "We wanted to eliminate that risk."
Pride and joy
The main parts area on the ground floor is accessible from both the parts counter and the large, brightly lit service area. With its immaculate tiled floor and built-in tool chests around the walls, the latter has the feel of a race shop.
"It's our pride and joy," Duriaux says. "We wanted to build a service area above anything else you'll see around here."
The new premises are completed by a cavernous basement that's home to around 36 additional new Cadillacs, more historic GM vehicles, fully equipped detailing bays and equipment for 3M protection.
In the spring, a solar-powered EV fast-charger will be added outdoors ready for the next generation of electrified Cadillacs, part of a new-product onslaught that will see a new Cadillac launched every six months for the next three years.