Polestar 2 was presented to the world online as a way to commit to its zero-emissions statement and deliver the company's message in a clean, undiluted, digital way, much like the car itself.
Polestar 2 is the new and improved premium five-door fastback with two electric motors and a 78kWh battery capacity that provides a target range of 500 km, based on Volvo Car Group's adaptable Compact Modular Architecture platform (CMA). The car further uses a 27-module battery pack integrated into the floor, which contributes to reduced levels of car noise, vibration, and harshness by a 3.7 dB and high rigidity of chassis.
The all-new, all-wheel electric powertrain produces about 408 hp and 487 lb ft of torque, which roughly translates to 0-100 km/h acceleration time of less than 5 seconds.
"Polestar 2 is our first fully electric car and first volume model. Everything about it has been designed and engineered with passion and dedication. As an electric performance brand, and through the forthcoming launch of a portfolio of fully electric cars, Polestar is determined to address the world's air quality challenges. Polestar delivers electric performance cars that are great to own and drive," says Thomas Ingenlath, Chief Executive Officer of Polestar.
Other features of the car include:
Signature gold seatbelts;
Performance pack that improves driving dynamics with Öhlins dampers, Brembo brakes and unique 20-inch forged wheels;
An infotainment powered by Android, which brings embedded Google services to a car;
11-inch touch screen display and natural voice control;
Phone-as-key technology and the car seat functioning as a start button itself;
Pixel LED headlights and proximity lighting; and
Frameless side mirrors.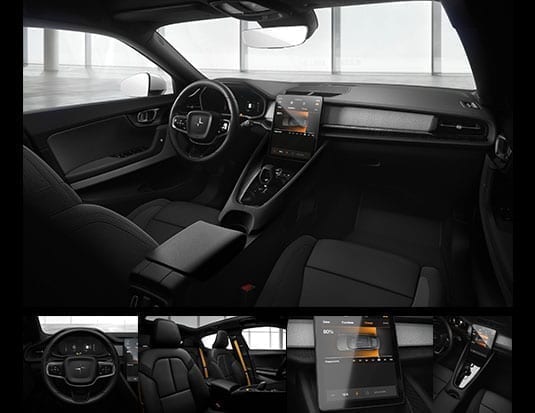 Maximilian Missoni, head of Design at Polestar, comments: "We decided to bring something different to the segment. Our avant-garde design has evolved from Polestar 1 into an edgier, bolder statement. We have also designed a standard vegan interior with progressive textiles that will appeal to the forward-thinking audience who will subscribe to Polestar 2."
The Polestar 2 will only be available for ordering online, where customers get to customize the car to their liking before completing the purchase. The guide purchase price for the launch version of Polestar 2 is 59,900 euros (about $89,926) with subscription pricing to follow at a later date. Pre-orders are open at polestar.com.
The car will also make its first public debut at the 2019 Geneva International Motor Show in March.
Initial launch markets include China, the U.S., Canada, Belgium, Germany, the Netherlands, Norway, Sweden, and the UK.
To watch the online debut, click here.