The 12th annual CBB Best Retained Value Awards highlighted which four-year-old vehicles hold their value best to help Canadians combat negative equity by better understanding vehicle loans.
Negative equity is when a consumer owes more on an auto loan than the actual market value of the vehicle, resulting in thousands of dollars of personal debt, and is fast becoming a growing economic concern for Canadians. According to research conducted by Canadian Black Book, about 97% of Canadian car owners want to be educated on loan term and equity position during the car-buying process.
In 2018, 31.5% of vehicle trade-ins were in a negative equity position averaging slightly less than the national average at -$5,184.
"If you take the example of a Best Retained Value winner at a depreciation level of 84% and compare its depreciation to the worst in that class at 41%, at trade-in time, there is a massive difference in the value of over $14,000," says Brad Rome, President of Canadian Black Book. "This is a very large sum of money, which is why understanding what cars hold value well, negative equity and when during your auto loan you will be in an equity position, is so very important."
To help Canadians feel more secure about auto loans, CBB recently launched a free Equity Calculator on their website, where consumers enter their vehicle and finance information and receive a chart that informs them of future equity in their vehicle. There are three other free calculators offered on the website; one allows consumers to see trade-in values before going to the dealer, the second shows future values, and the third shows the average asking price.
Deciding what vehicle models hold more value
The awards educate Canadian car buyers on different lower depreciation models across 23 categories and three overall brands.
"Our awards are a factual representation of what has happened in the Canadian marketplace regarding the depreciation of four-year-old vehicles," says Brian Murphy, VP Research and Analytics at Canadian Black Book. "We hope the manufacturers are proud of these awards, but perhaps even more so, we want consumers to recognize these awards and use them as a reference point to help direct them into smart buying decisions."
Trucks and SUVs are most in demand over the last several years, with the top segments for value retention over four years being the 'Small Pickup' (73%), 'Full-sized Luxury Crossover/SUV' (63%) and Full-sized Pickup' (61%). An exception to this trend is the 'Premium Sports Car' segment (64%).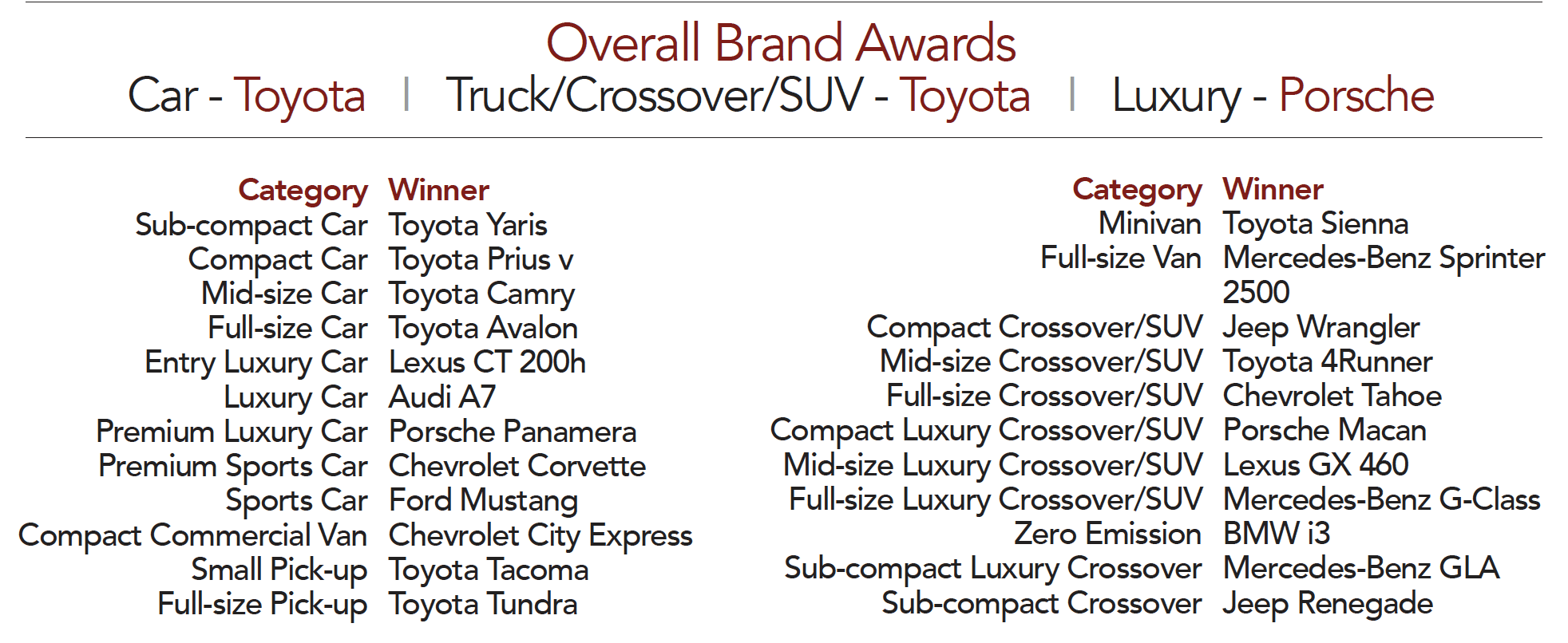 First-time winners include:
Ford Mustang – (Sports car)
Toyota Yaris (Subcompact car)
Porsche Macan (Compact Luxury/SUV)
Lexus GX460 (Mid-sized Luxury Crossover/SUV)
Chevrolet City Express (Compact Van)
Many of the vehicles have maintained an impressive streak over many years:
Dodge Challenger – seven-year winner (Sports Car – came second this year).
Toyota Tundra – ten-year winner (Full-sized Pickup)
Toyota Tacuma – ten-year winner (Small Pickup)
Jeep Wrangler – nine-year winner (Compact Crossover/SUV), with value retention of 84.7% in 2015.
Audi A7 – six-time winner (Luxury Car)
Toyota Avalon – three-year winner (Full-size Car), has won eight times in the last ten years.
Porsche Panamera – six-year winner (Premium Luxury Car)
Toyota 4Runner – second-time winner in the last ten years; Toyota has secured this category for nine out of ten years.
Chevrolet Corvette – two-year winner (Premium Sports Car)
Overall retained value, across all vehicle models sold in Canada for 2019, is 52%. This year, Toyota won a total of ten categories, with two 'Overall Brand' wins and 18 category mentions (first, second or third place). Lexus won the 'Entry Luxury Car' category taking first place with the CT200h model, second place with the IS-Series, and third place with the ES model.
North American brands fared well with six categories and 19 total mentions, with GM winning first, second and third place in the 'Full-size Crossover/SUV' with the Chevrolet Tahoe, Chevrolet Suburban and the GMC Yukon respectively. FCA had two wins, and eight mentions and Ford had one win and three mentions.