TRADER Corporation has released an all-new dealership website solution—TAdvantage—to Canadian automotive retailers, based on feedback from customers across Canada.
TAdvantage features improved performance reporting and analytics with enhanced website personalization and real-time customization functionality. It allows retailers to advertise their dealership and inventory across major Canadian media channels to promote their brand, using advanced integration of TRFFK, while incorporating TRADER's live Chat solution to grow customer engagement and quicken customer service during the information-gathering and vehicle purchasing process.
"We listened to feedback from hundreds of customers nationwide about the challenges they experienced with our third-party website platform and invited them to share their thoughts on what our new technology solutions should encompass," said David McMinn, Chief Operating Officer at TRADER. "By bringing these technologies in-house and building the new TAdvantage from the ground up with our customers' needs in mind, we are delivering more rapid innovation and the most advanced, Canada-first website solution in the market."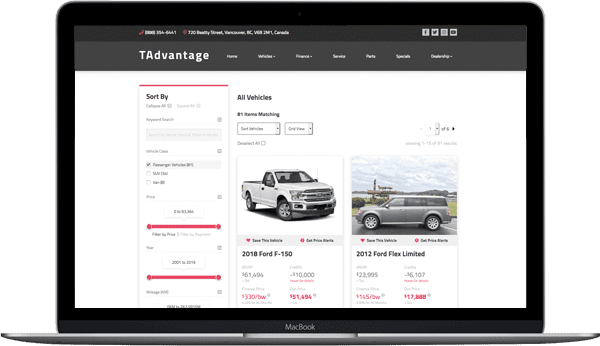 Other features include a dynamic finance calculator on the Vehicle Details Page (VDP) and the ability to create custom landing pages. Another online tool that will be incorporated in the future is the integration with Instant Cash Offer, that generates certified vehicle valuations for consumers looking to sell or trade-in their vehicles, connecting dealers directly with these pre-qualified consumers.
To increase traffic on dealership websites and inventory, TRADER uses a premium Search Engine Optimization (SEO) solution, to bring dealership brand identities online through content creation, local optimization, and in-depth SEO audits conducted by channel experts.
The website platform is accessible through TRADER's new inventory management system, 1-SOURCE.
Visit the TAdvantage website for more information.