The 2018 Canadian Black Book "Best Retained Value Awards".
For eleven years now, we at Canadian Black Book have recognized the vehicles in Canada that shine at holding their resale value, through our annual Best Retained Value Awards. The awards are based on the actual performance of four-year-old vehicles in the marketplace. We calculate how much of the original MSRP was retained based on January 2018's published wholesale values and award the trophies accordingly.
The awards results are valuable information for informed consumers, given that depreciation is the single largest expense of vehicle ownership. Buying a vehicle that retains its value well can save thousands of dollars when it comes time to trade that asset in for the next car. If a consumer prefers leasing, it can result in significantly lower lease payments, if you are leasing a retained value winner!
A new retained value record
For 2018, the awards program analyzed 2014 model year vehicles in 20 categories. Last year, Canadian Black Book introduced its "Overall Brand" awards, which calculates the average retained value across each OEMs product lines, in three categories—Car, Truck & Crossover/SUV and Luxury.
This year we saw the overall market average for four-year-old retained value set a new record at 53 percent, beating last year's record of 51 percent. There are several reasons for this show of strength. The economy in general is performing quite well, which is keeping demand for cars brisk. Also, values are still in recovery mode since bottoming out in 2009, a trend that continues. To cap it off, the export of Canadian used cars to the U.S. market has also helped to keep values artificially high in Canada. We also expect this year to be a turning point as value trends are expected to start a slow decline.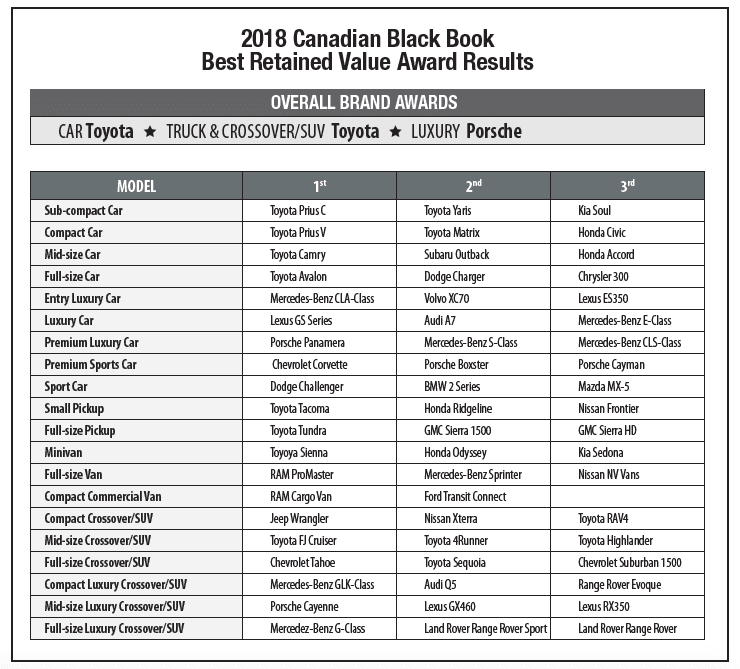 Segments & brands
In terms of segment performance, the 'Small Pickup' is the retained value champ at 73 percent, largely due to the strength of the Toyota Tacoma. Compact cars, as a segment, retain the least amount of their value of any category at 40 percent, yet up from last year at 37 percent. As the market continues to fall out of love with cars and looks to crossovers instead, this trend is not surprising. In our 'Overall Brand' awards, this year the honours go to Toyota for both "Car" and 'Truck & Crossover/SUV' categories. Looking at the results it is easy to see why—they are omnipresent in the results!
Toyota earns ten wins (including the two Overall Brand awards) and 14 mentions (1st, 2nd, 3rd), leading the way for the 11th year. Toyota sweeps mid-size SUVs, again earning 1st, 2nd and 3rd places. Toyota Camry has won three years in a row in "Mid-size Car"and the Toyota Avalon has won seven out of nine years in "Full-size Car."
Even the "Minivan" category has been captured by Toyota, where the Sienna unseats the Honda Odyssey after winning seven of the past nine years. Toyota's first place wins in "Small Pick-up" (Tacoma) and "Full-size Pick-up" (Tundra) class extended its run in both categories for the ninth straight year!
The sporty folks at Porsche have once again proven that when it comes to retained value there is no substitute by repeating in the Overall Brand "Luxury" category. The Porsche Panamera wins for the fifth consecutive year in "Premium Luxury Car." If you needed more reasons to buy a Porsche, here is an analytical one!
The venerable Jeep Wrangler wins for its eighth year and sets an all-time retained value record at 91 percent, surpassing the mark set last year by the Toyota FJ Cruiser at 83 percent. The iconic design of the Wrangler has endeared itself to buyers both new and used.
Work trucks
After seven wins in eight years, the Mercedes-Benz Sprinter comes in second place to the RAM ProMaster in 'Full-sized Van,' holding a healthy 64 percent of its original MSRP. However, Mercedes-Benz is not going home empty handed as they haul a trophy home in the "Full-Sized Luxury Crossover/SUV" segment for the G-Class and in the Compact Luxury Crossover/SUV for the GLK-Class.
The Chevrolet Corvette wins for the first time ever in "Premium Sports Car" and posts the second best overall retained value in the industry at 88 percent. This is the first year the current C7 generation Corvette qualified, so it's not surprising to see that this significantly enhanced vehicle has done well as a used vehicle.
A key objective of our annual awards is to increase the amount of consumer awareness and dialog about depreciation. It is our hope that when a consumer is researching their next vehicle purchase, they will give more thought to which vehicles are superior at retaining their value. Their bank account will thank them later!