Proper respiration practices in the paint booth save time and save lives.
When it comes to painting and spraying practices in your collision centre, do you know what the correct safety protocols are? More importantly, do your technicians and painters know what they are?
If you were to take a consensus among staff in collision centres across Canada today, how many would be able to provide a straight answer when it comes to knowing what those standards are? Furthermore, safety inspectors in different regions and provinces often don't know which standard to follow which only adds to the confusion.
Two requirements we have in Canada related to health and safety or respiratory devices are those provided by the U.S. National Institute of Occupational Safety & Health (NIOSH) and the Canadian Standards Association (CSA).
Differing requirements
When you look at both standards, however, there are differences. For example, NIOSH does not allow the painter to connect a single whip hose from a spray gun to a belt unit. Instead, it requires the painter to have two hoses, one for spraying and one for breathing.
CSA has differing requirements, acknowledging that advancements in spray equipment and ventilation over the last 25 years make the use of a single whip hose acceptable when spraying. The question then becomes, if you are using a whip hose with a NIOSH certified product, are you then violating safety protocol even though this is considered acceptable under CSA?
Also, when we look at CSA standards for breathing apparatus in our industry, it always pays to know when the standard was last revised. Currently, the last time it was updated was in 2019, so you need to understand how to read the standard to determine whether the piece of equipment you are using meets the latest requirements.
This can become extraordinarily confusing, not just for safety inspectors but also for staff on the shop floor of a collision centre. To help provide guidance, SATA created a two-page Quick Guide to CSA standard, Z180 and had it laminated and distributed to shops, so they knew what the standards were and what to expect when inspectors came visiting.
Nevertheless, having the standard posted in your shop is one thing, actually following the requirements is another. A key one regarding CSA is that when you are in the booth spraying a panel or even a complete vehicle, you need a full mask covering which includes your eyes, ears and hair in addition to mouth and nose. Half masks are not approved based on both CSA and NIOSH standards.
This becomes particularly important when spraying today's water-borne refinish solutions. While they are definitely better for the environment compared with solvent based solutions, water-based solutions are more harmful to the human body.
Air supply
Not only are there concerns around external protection for the person in the spray booth but also where the air supply originates and the quality of the compressor you are using in the shop. There is no filtration system that is going to remove carbon monoxide or dioxide completely, nor is there any compressor that is going to increase the flow of oxygen to your mask. That's why compressor quality and maintenance are so important.
Another key consideration is filtration. Is the filtration you are using able to provide clean, uncontaminated air that's free from hazardous oil vapours? This is essential when you are using charcoal filtration. It's very important to understand that both compressors and filtration have maintenance cycles, and these must be followed. In a production collision centre, a compressor should realistically be maintained at least twice a year, while the filtration itself should be examined at least every three months.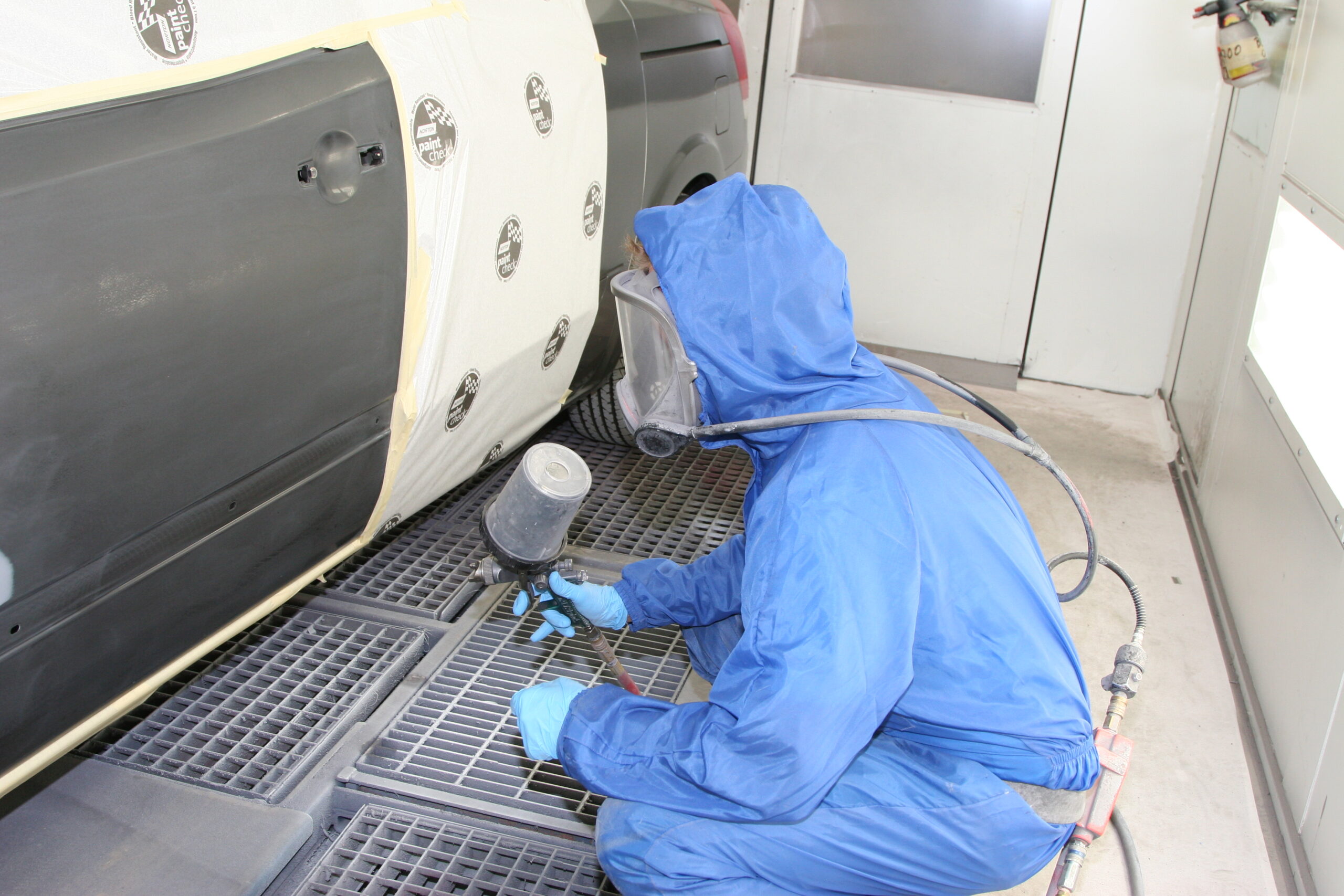 On top of these two, you must also consider the type and quality of hoses you are using. A good quality hose is essential for both health and safety and also for delivering a top-quality paint finish. A cheap hose will break down internally, with pin holes contaminating the air inside which compromises your breathing and can lead to long-term health issues.
If we look at it from a painting aspect, using a cheap hose can cause pin holes and fisheyes to appear in the paint and often, the painter does not realize the problem lies with the hose itself.
Maintenance matters
It's the same when it comes to respiration. If you are not following the maintenance requirements laid out, then you are compromising your own health and safety. For example, one common filtration system available requires that the charcoal canister be replaced every eight hours. If you are not following this maintenance requirement you are not getting close to the protection you need against isocyanates.
Other systems may require the filtration system to be serviced every three months; but the key point is, follow the maintenance requirements!
Often, it's easier said than done. Equipment varies, as do health and safety requirements. What is applicable in Toronto, may not be applicable in Kelowna or Gander and even varies widely within different regions of the same province as does the knowledge and experience of health and safety inspectors.
In the current climate, the best thing you can do is self-educate and learn what the safety standards are and follow the maintenance requirements on your equipment. It could not only save you time, money and the risk of your shop being shut down due to safety violations, but also, your life!
---
John Turner is General Manager for SATA Canada. You can reach him at [email protected]