At this well-known Edmonton collision facility, the future looks decidedly bright.
Located at 5230, 99 Street North West, Simplicity Car Care Edmonton South has developed a stellar reputation for quality body repairs—to such an extent in fact, it backs them with a lifetime warranty. The shop also handles a full range of additional services including auto glass repair/replacement, paintless dent repairs, scratch removal and corrosion protection.
Shop owner Tim Robertson says he was always interested in cars, which led to him embarking on a career in collision repair shortly after high school. "I was always mechanically inclined," he says. After four years of technical training at the Northern Alberta Institute of Technology (NAIT), Robertson became a Journeyman Auto Body Repair Technician and then transitioned into car painting. By the start of the new millennium, he felt it was time to change direction slightly and open his own shop. Robertson Bodyworks, (now Simplicity Car Care Edmonton South), was established in 2001.
Premium quality work
Our first location was 2800 square feet," he says, "and we purchased the business for $25,000." From day one Robertson was adamant about delivering premium quality work and going the extra mile for customer service. It paid off.
Seven years later the business had moved to its current location, not far from Whitemud Drive NW. "When we first moved here, the building was approximately 5,500 square feet," says Robertson. "Two years ago, we expanded and added another four bays." Today the shop area is approximately 8,000 square feet and the business employs five staff, including a Journeyman Auto Body Repair Technician, Journeyman Painter, as well as an additional repair technician, prepper and detailer, plus an administrator in the front office.
Robertson says the shop currently repairs between 15 and 20 vehicles per week and to ensure the highest repair standards are maintained, the shop's technicians are I-CAR Gold Class certified. Ensuring parts are delivered as quickly and efficiently as possible is integral to the repair process at Simplicity Car Care Edmonton South. "Once the X-ray and vehicle blueprinting have been performed, parts are expected to be delivered in three or four days, so by the time the vehicle has been repaired and through the paint booth, the parts are ready."
Robertson says the process is efficient and works well but, like anything else, requires continued emphasis on improvement to move forward. "Our technicians are on board in continuing to elevate their capability and improve our shop process every day," says Robertson. "And this, in turn, inspires me to continue pushing the envelope and improving my own processes every day."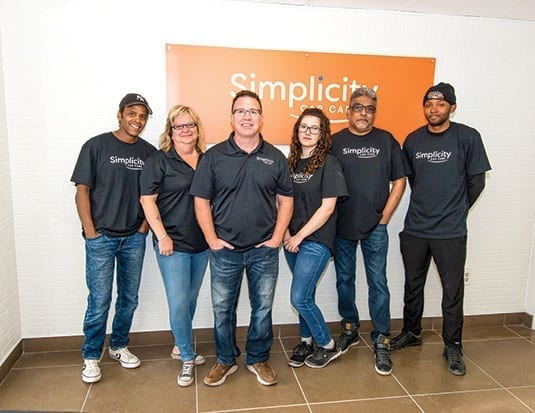 The right investments
Given the rapid change in vehicle design and engineering over the last two decades, Robertson is adamant of the need to not only maintain training standards but also make the right equipment investments. Yet, he says, ROI is critical in a shop of this size. "When we look at equipment investments, alongside our training investment, it becomes a question of how it will help the repair process—make it better, faster, more efficient.
Robertson notes that his current refinish partner, PPG, and also his main jobber Canada Car Color, based in Edmonton, are very significant factors in the shop's continued success. "Our jobber is constantly helping in training and helping our staff, whether it's learning the newest technology in polishing compounds, or sanding materials, adhesives and fasteners, they are always trying to keep us ahead of the curve."
With accreditation and OEM certification a current industry trend, Simplicity Car Care Edmonton South has also been endorsed by a number of vehicle brands for certified repairs, including Chrysler, Fiat, Dodge and Ram, as well as Nissan.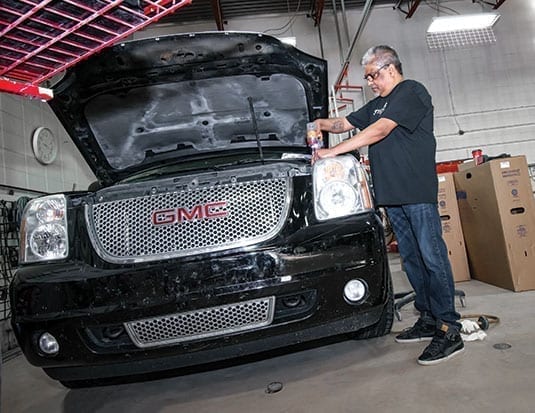 The logical choice
With a focus on securing the long-term future of the business, Robertson knew that joining a franchise network would likely provide the best opportunity. He first came into contact with Simplicity Car Care in October 2018. "This industry is changing and probably at a faster pace than many people would like," says Robertson. "You need to do whatever it takes to move forward, and we felt joining a network would be a huge opportunity." He says that after meeting the team from Simplicity Car Care it seemed like an ideal match. "We meshed," he says, noting that both parties shared the same business outlook and vision for the industry moving forward. "We've really bought into the concept of Simplicity Car Care and the idea of growing our business. We want to see how far we can take it."
As for expanding to another facility, Robertson said, "that is something we'd like to consider and certainly with the tools and support we have from Simplicity Car Care, I believe it's now a real possibility."