Collision repair shops can retain their apprentices by identifying and addressing their specific needs.
Every business owner dreams of someday passing the baton to a young protégé who can build on his or her legacy. Such a person cannot be picked at random. The protégé has to be honed systematically, beginning at their apprenticeship stage. The collision industry is no different. A major challenge today is finding apprentices who are interested in joining the industry.
There are several deciding factors that interest apprentices in the collision repair industry, one of them being their love for cars.
"In order to keep your business thriving, you have to find those kids or apprentices that are interested in collision repair, and you have to bring them in and train them throughout the ins and outs. These apprentices are the future of your business," says J.R. Martino, General Manager, Budds' Collision Services.
John Norris, Executive Director of Collision Industry Information Assistance (C.I.I.A.) notes a different trend in this regard. Although he says the mechanical segment has seen a decline in the number of recruits, there has been a significant increase in the number of apprentices in the auto body segment.
Finding new blood
Recruiting techniques have considerably changed in recent years to keep in tune with advancements in the collision industry. "We work with training schools, and many of them have pre-employment programs. We constantly have communication with apprenticeship programs, and we even try to be present during the skills competitions," says Johnny K, owner of multiple CARSTAR facilities in Alberta. The candidates in the skills competitions are already interested in joining the industry. Johnny gives them some extra information on what the industry is about.
Attending workshops to recruit apprentices is a common trend with repair shop owners today. C.I.I.A. has scheduled several industry events this year, and Norris says they have seen good attendance in the ones that have taken place so far. Auto body shops have shown up at employment fairs to scout out and recruit apprentices. Norris finds a dramatic
difference in the techniques currently being used. He has noted that autobody career fairs across the province are well attended. "There are links with agencies to help place apprentices. Grants and incentives are available, and there are more shop inquiries and ads on the free employment section of C.I.I.A.'s website. The apprentice classes are full. New programs and formats are being invented and used all the time," he says.
Roadblocks to retaining apprentices
Hiring apprentices is just the beginning of the story for collision repair shops. The bigger long-term challenge is retaining apprentices that are trained. Traditionally, movement across shops as well as poaching has been problematic. Norris finds that although repair shops are getting better at retaining apprentices longer, the issue is sometimes their hiring process. "They tend to look at these short-term answers when they are in a crisis; they decide to hire. That is not a long-lasting solution," he explains.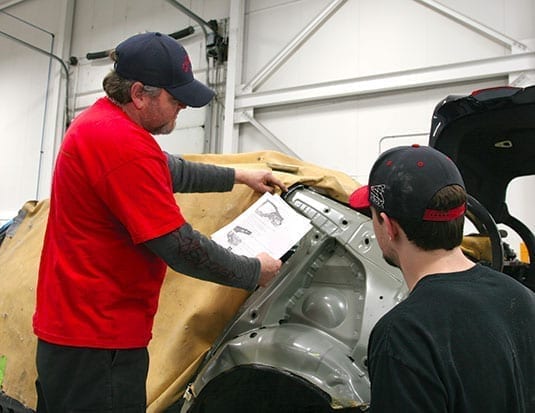 Another reason for apprentices to leave the trade is a lack of understanding related to full wage scheme ability, according to Johnny K. Apprentices start out on a lower wage and are required to do "low" work initially. "With the information available today and a lot of publicized information to support the earnings of a journeyman technician, they are able to earn more. A journeyman technician can earn $100,000 a year, which is more than a bank manager's salary," he explains. To reach that level, an apprentice will have to go through four to five years of training.
What do apprentices expect?
A study on Apprentice Retention in The Skilled Trades conducted by The Industry Education Council of Hamilton lists the 10 key apprentice retention factors—Appreciation, Liking Co-Workers, Loyalty, Communication, Pride, Responsibility, Safety, Financial Support, Access to Training and Work/Life Balance. Apprentices have said that besides the usual reasons like remuneration, access to training and appreciation, having good co-workers and a safe work environment are important reasons to stay with one employer.
"Appreciation and respect make apprentices stay with one shop. Also, advancement of opportunities and the kind of work they do is crucial. They cannot just detail cars, sweep the floor, and fix a small dent. They need to be challenged," says Johnny K.
Culture in the repair shop is another factor that apprentices consider, notes Martino.
"You want to create a work culture and environment that people are going to want to stay in and come to work. It doesn't necessarily mean money. It means friendships, bonds, comfortability, and that's what is developed through mentorship."
Industry professionals agree that it also helps if apprentices are able to see an upward growth within the shop.
How to retain apprentices
The basis of an apprenticeship is laid out during the hiring process. Norris says that shops need to plan it out properly. When someone is hired, the shop needs to have some sort of package mapped out. "There should be some understanding that says the apprentice is going to work on something for three months, then move on to something else for the next three months," he explains. "You tell them that we are going to do your review, there is a progression and there is a wage increase."
Keeping the shop on par with the technological advancements in the industry is equally critical. Norris notes that everyone wants to look at something new and progressive as they move on in their career. If a shop is not willing to do that, it stymies the career of the young learners.
Apprentices require training to be able to enhance their skill levels.
"To retain your employees, it is necessary to get them trained. You need to be sure that it is advantageous to both parties. Sometimes either the employee is not getting trained or their learning curve is too steep, leading to subsequent strains both financially and personally," says Martino. They might not want to stay in the trade if they do not make enough money. Martino explains that they start out on minimum wage and shop owners cannot just provide them with extra compensation to retain them. Constantly training them to help them move upwards quickly will ensure that money is made at both ends.
Besides the schooling costs, sending apprentices to train slows down the production in the shop. "It is difficult to calculate that in dollars, but it takes time to train them. Sometimes they make mistakes; the repair may need re-work done," says Johnny K. But he understands that they cannot be kept in the wash bay forever. "It is like planting a seed. You can reap the rewards of the fruit for years to come. Body shops have to take responsibility of our future by investing in the younger generation."