This small-town collision shop sees investing in the future as key to success.
Lacombe, which is located around 25 km south of Red Deer, Alberta, boasts a population of just over 13,000 people. Yet within this small community are no fewer than four collision centres.
And one of them, Fix Auto Lacombe, has a very high number of female employees both in the shop itself and working in administrative roles.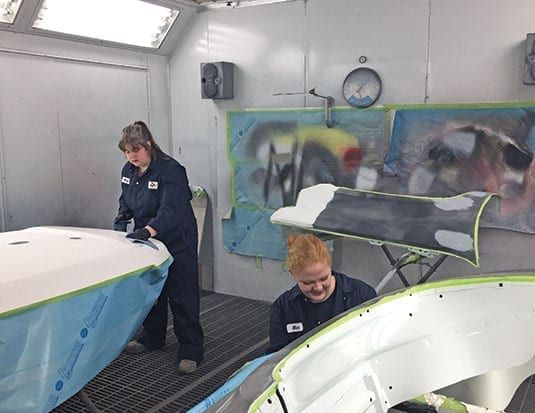 Female factor
Shop owner Jiri Pala says the ladies have been a tremendous asset for the business. Nina Boettger and Morgan McRae, who work in the shop, love what they do and continue to hone their craft, always listening and learning. Boettger has been with Fix Auto Lacombe for three years, while McRae joined two years ago.
"They joined us at the right time," says Pala. "At the time we didn't have a painter and Nina was enthusiastic and willing to learn." He says that both apprentices have shown a great deal of talent and quickly learned how to paint, from performing detail work in door jambs and engine compartments graduating to full panels and bumpers. "It's really satisfying for me to see the difference from when a vehicle comes in here to when it leaves," says Boettger.
McRae has also graduated to larger repair procedures. At the time of our visit she was replacing the entire side of a box on a Ram 1500 pickup. "I like fixing things," she says. "I think that being here is a great opportunity to combine my artistic passion with something that I really love doing."
Commitment counts
Shop owner Pala says that while it is still quite unique to have such a high number of female employees, the actual staffing requirements at the shop have been largely driven by business and economic factors.
He cites that often, it can be difficult to get qualified people to work in a small town, especially if they feel there might be better opportunities in larger metro areas such as Edmonton or Calgary. It can be hard for us to compete with larger shops," says Pala, "especially if they have more resources." Yet the team at Fix Auto Lacombe is dedicated and committed. We have employees that will drive between 20 and 40 minutes to get here," he says. "We have a good team."
Pala first opened the business in 1994, trading under Pala Auto Pro Limited before choosing to focus on collision repairs in 1999. In 2001 he moved the business to its current location at 5511 Wolf Creek Drive and in 2015, Pala decided to join the Fix Auto network.
"I've always been interested in and seen the benefits of networks," he says. "They're able to provide the services your customers are looking for, such as national warranties, consistent service and effective marketing messages," he says. "With Fix Auto we really have strong support from the network—it's really good." He also notes that his customers have also seen the benefits and business has boomed, even in a small town with such a high percentage of body shops.
The full roster
Currently, Fix Auto Lacombe covers 697 sq m (7500 sq ft), with four bays and office space. The shop performs the full gamut of collision repairs, everything from minor scrapes and cosmetic damage to structural work. On average, Pala says he sees around 30 to 40 vehicles a month cycled through the shop.
Asked whether advancing vehicle technology and new substrates are impacting the business, Pala says that he's familiar when it comes to working with materials like aluminum. "It has actually been around for a long time," he says. "We've had it for years on European vehicles, from aluminum hoods and decklids to complete structures on cars like Jaguars and Audi A8s."
He also notes that technology advances requiring the need for pre and post scans have been a benefit. "It's good that we are now being recognized and can charge for diagnostic work," he says, seeing the benefits not only for his business but the industry and motorists as a whole.
Pala believes that despite the many pressures facing the industry today, such as rapidly advancing technology, training, equipment investments, cycle times and door rates, the key to operating a successful business is the right employees. "You need to find good people, and you need to train them well. We've been a big advocate and supporter of apprenticeship programs and we work with the local high schools to support these kids. They're the future of our industry, and if we can give them a career opportunity, it benefits them and us."