There aren't many automotive businesses that have been in the same location since 1924, but Regina Auto Body is one of them.
Starting out as a blacksmith's shop, today it is recognized as being a state-of-the-art, forward-thinking collision repair shop.
Currently boasting 19,000 sq ft on a 20,000 sq ft lot with additional parking adjacent to the business, Regina Auto Body underwent a major renovation back in 2012. "It was our biggest renovation in history," says Owner Mike Mario. "We demolished our entire front office as well as our detailing bays." Mario, whose father, George, purchased the business along with his business partners in 1965, says the renovation did test everybody's patience, but the end result was increased sales. 'We had grown from less than $1 million in sales when I first got involved with the business in 1989, to $4 million by 2012, but we had grown out of our staff room and office areas by then," relates Mario.
Onward and upward
With the renovations completed, it has been onward and upward for Regina Auto Body. Along with new office space and detailing facilities, a training room was also added. "It's been a huge help considering the amount of training we've invested in over the last number of years," says Mario.
Currently, the business processes an average of eight vehicles per day which translates to 173 per month and 2080 per year. Making it all possible is a dedicated team of 24 staff plus Mike and co-owner Greg Mario.
A key part of being able to operate effectively has been a focus on the process throughout the entire repair procedure. "We designed our process with a learning environment in mind," says Mike Mario. "And we wanted to make sure our younger technicians become efficient as quickly as possible." All technicians start out working in the detail area and then, once they've gained some experience, move into vehicle disassembly or refinish prep. "Every area in our process has a Standard Operating Procedure (SOP)," states Mario, "and we check for 'World Class Quality Verification' on every work order." During each stage of the process the next person will qualify whether the work has been performed according to the SOP. "If by chance some tasks have not been performed to 'World Class' standards," remarks Mario, "we will recognize a learning opportunity and our on-site trainer (a former Sask Polytechnic instructor) will assist the technician with the appropriate training to prevent such issues from reoccurring."
Also helping the process is the adoption of the Kanban replenishing system for refinish and bodywork materials. "The Kanban system allows us enough time to get products to the shop, so we ensure we never run out," adds Mario.
Significant role
He also acknowledges the significant role that Regina Auto Body's refinish partner, PPG, contributes to the process. "PPG has truly helped us on our journey," says Mario. "From management seminars to Green Belt training, to shop instructional training, PPG has shown us the way toward continuous improvement and has been very supportive of us from day one."
Before retirement, Mike's brother, Chris, who also instructed PPG classes and frequented seminars, workshops, and tours of lean businesses, led the business through its lean journey by removing himself from day-to-day operations for a few months, and going into every nook and cranny at RAB to sort, set in order, shine, and standardize. Today they sustain the work that Chris headed up.
Mario acknowledges the need for continuous improvement as well as investments in tools, equipment and training. The team analyses improvements by asking, "What's broke—is it people, product or process? Is it necessary for proper repair of new vehicles on the market? If the change won't result in an improvement then we won't make it," he says.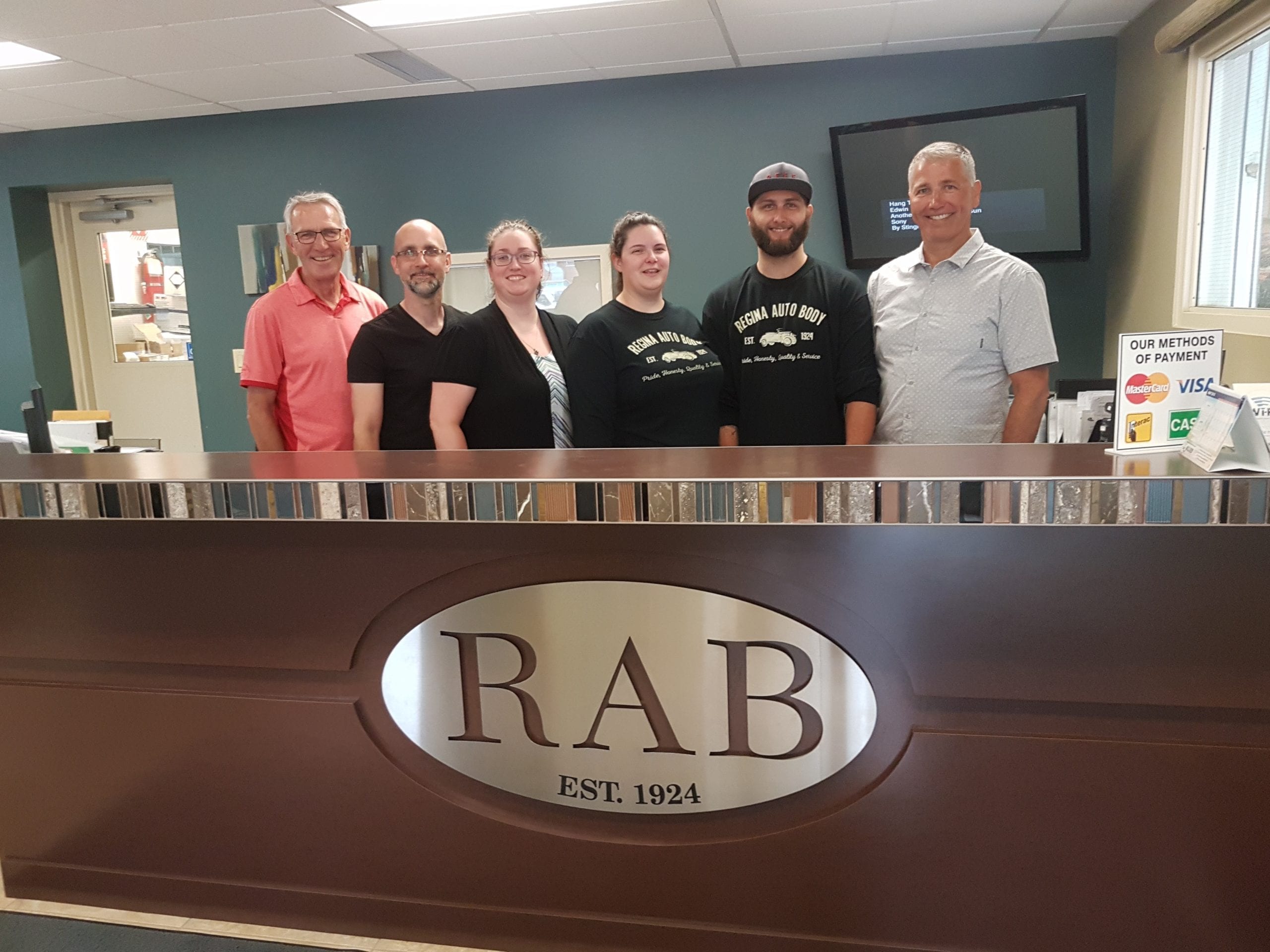 Major investments
By embracing change and making major investments in training and equipment, Regina Auto Body continues to grow and prosper. One trend that Mario has embraced is OEM Certifications. The shop is currently certified by Ford, Kia, and Fiat Chrysler through Certified Collision Care, and has plans to pursue Nissan and Toyota certifications. This achievement required investments in aluminum repair equipment, Revo drying technology, Festool vacuum systems, Car-O-Liner electronic measuring systems, Tecna spot welders and Pro Spot's SP5 smart welder. Regina Auto Body is also in the process of installing a new, state-of-the-art paint booth. "Construction starts in July," adds Mario. "We chose a GFS Ultra XP1 9.1 m (30 ft) booth that won't take up much more room than the Nova Verta 7.9 m (26 ft) booth that is there now." Having made these investments, it is not only a source of company pride but also provides Mario with peace of mind, knowing that his team has everything needed to ensure vehicles are repaired right, to manufacturer specifications. In addition, it helps to attract new business, by promoting their certified status to consumers. With the support of the shop's long-time jobber, Auto Electric Service, they continue to move their business into the future. "They have been in business for 70 years, and their relationship has been an integral part of our success," he says.
With an emphasis on continuous improvement, it looks like Regina Auto Body is well positioned for future success and growth. "Our vision," states Mike Mario, "is to provide a world-class, keys-to-keys process that results in committed teammates, satisfied industry partners and superior customer satisfaction."