With the proper training and equipment, collision shops will see significant improvement in unit turnover, customer satisfaction, insurer satisfaction, and improved profits.
The growing use of mixed materials, particularly aluminum, can be challenging for collision shops that are not familiar with the properties of aluminum versus steel panels. But with the proper information, training, and tools, technicians can ensure complete, safe, quality repairs.
"The materials OEMs are using today have changed considerably over the last 10 to 20 years. Until recently, the techniques and tools available to make repairs have not kept up with these changes. We now have the technology and tools that technicians, when trained on how to use them, can repair a lot more," says Dave Flockhart, General Manager, North America, BETAG Innovation.
"Regardless of the tools you are using, if you don't have a technician that is trained properly to understand how to straighten metal or aluminum, it doesn't matter how good the tool is, at the end of the day the repair is not going to be great," continues Flockhart.
Damage assessment
"It starts with identifying what the damage is and where the damage has moved to because, for every crease, there is a rise. Aluminum moves very nicely under the right conditions. It is also important for the estimators to know how to look for the damage," says Russ Duncan, Sales and Marketing Director, Canada for Pro Spot. "It comes down to good lighting and analyzing the damage. If you aren't thorough, you will find what you missed later, and it will require more work you aren't getting paid for."
"There is a strong need to make sure technicians are trained properly," adds Flockhart. "What goes alongside that and is equally important is understanding what is repairable and what the appropriate repair methods are."
There are four key criteria that the estimator needs to apply to determine whether or not a panel can be restored or replaced. These consist of the safety characteristics, the functionality, the durability, and the esthetics. "If all four of those can be restored satisfactorily, then you can repair that panel.
If any one of those four criteria can't be met, then that panel should be replaced. When we are training estimators, it helps them to understand vehicle structure and how to analyze the damage properly. You need to know what the appropriate repair method would be. Once you do that you can work out the cost of undertaking the repair," explains Flockhart.
There is a lot that is fixable, but first, the technician has to be clear about what he/she is looking at, and that all four criteria are being met. Depending on what the answers to those questions are, the most appropriate repair methods are then employed.
"What happens with a piece of steel doesn't necessarily happen with aluminum," adds Pro Spot's Russ Duncan.
"Although the physical dent removal time is no longer for aluminum, it's the preparation time that is required for aluminum."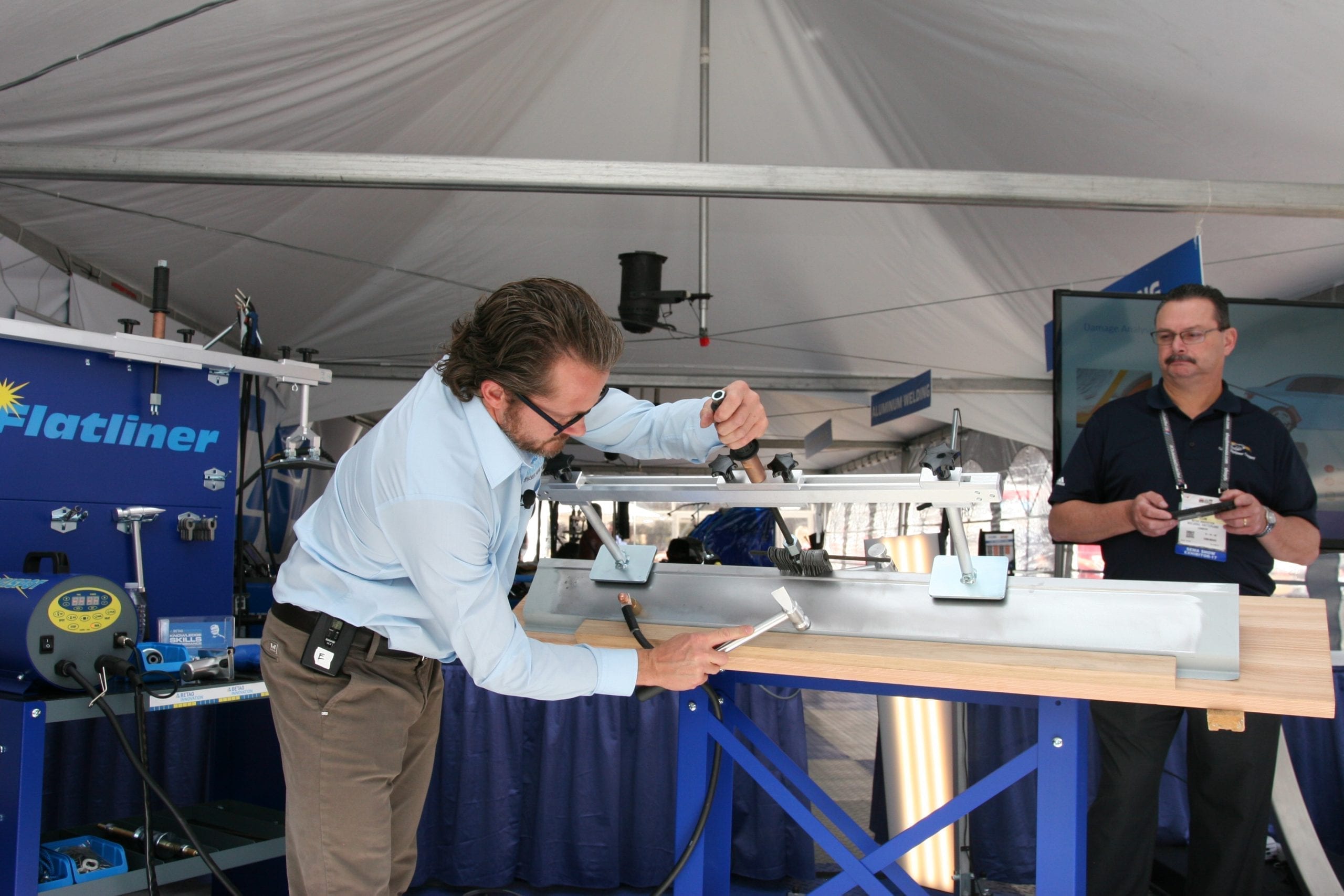 Surface prep
The preparation includes cleaning the surface properly for the pins or keys to stick to as well as removing those pins after the repair is completed. "We want to put as many pins as possible into place, so we are pulling with the power of many," says Russ Duncan.
"For a shop that has the proper dent pulling equipment and a technician who is trained properly and understands how to fix a dent, the scope of the repair and the quality result you can achieve is quite high," adds Dave Flockhart.
Three key drivers:
Increase the quality of the repair
Reduce the time taken to make the repair
Get cars through the shop faster and as a result increase customer satisfaction
"As you repair more panels that meet the criteria for repair, the costsshould decrease.
Labour may be up, but the part cost will be down. The insurer is happy. From a repair point of view it is a good result for the customer, and they get their car back sooner. Everyone wins if it is done right," says Flockhart.
"When pulling a steel panel, it wants to spring back. But with a piece of aluminum, once it is dented that's its new life," explains Mr. Duncan. "You have to realign it or change its structure to bring it back. The only way to do that is to re-heat it so it will move. Once it cools, it will stay where you pulled it to.
If you pulled it cold, just like with a beer can, you flip it back and forth a few times and it would crack in half. The same thing will happen to an aluminum panel."
Dent repair preferred
"When you apply heat to it with steady pressure it almost becomes mouldable.
It is actually easier to work with than steel. You just have to set up the pulling devices and then remove everything afterward, so it takes more time, but the result is there," explains Russ Duncan.
"If a panel needs to be replaced, it needs to be replaced, but there are a lot of damaged parts that are fixable. With the proper training and equipment, collision shops will see significant improvement in unit turnover, customer satisfaction, insurer satisfaction, and improved profits," says Flockhart.
"Most OEMs promote dent repair, as opposed to sectioning out a piece. They know that part is original to that car, it fits, and you don't have to disturb any of the corrosion protection on the vehicle. Plus, collision shops make far more profit on labour than they do on parts, and you know the part fits. You don't have to worry about getting an OE or aftermarket part that may or may not fit like the original one," adds Duncan.