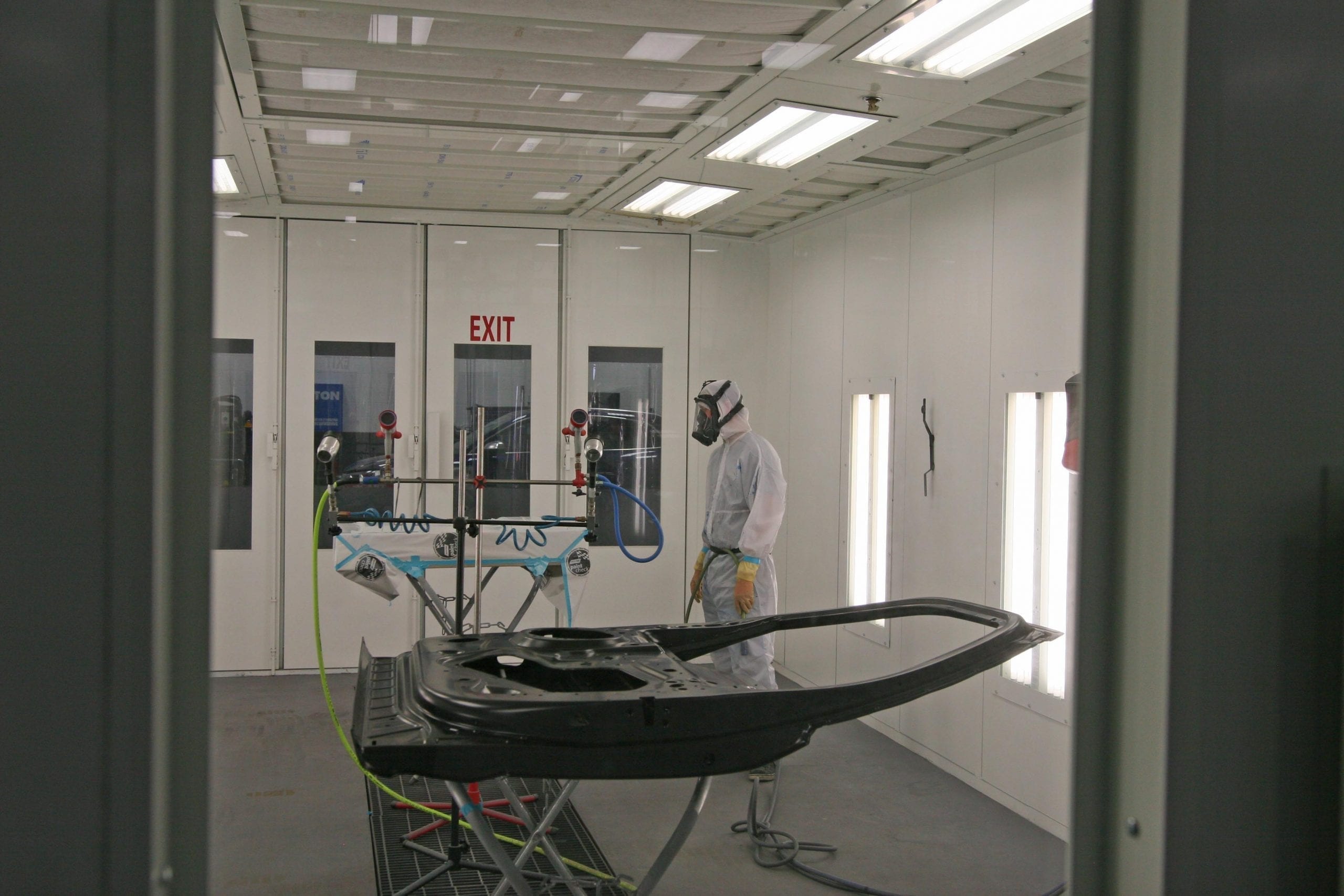 This premium collision repair location is impressive by all accounts.
Arriving at 15535, 115 Avenue NW you can't help but be in awe of this shop's physical size. A former warehouse complex, the more than 2415 m2 (26,000 sq.ft.) facility, represents the third of its kind to open under the Distinctive Auto Works brand (the first is located in Calgary, the second in Victoria, B.C.).
"Distinctive Auto Works has been very successful for us in the Calgary market," says Rick Hatswell, Chief Operating Officer of parent company Craftsman Collision, "so it made sense for us to expand the brand in Alberta."
Distinctive Auto Works Edmonton was seen as the logical step in following on from the Calgary and Victoria locations. Additionally, a strong relationship with Jim Pattison Group proved to be a catalyst for the opening of the Edmonton facility.
Ideal location
As Hatswell notes, Jim Pattison was establishing its new Audi retail location in Edmonton (Audi Edmonton North) at the time and with DAW in the process of obtaining Audi certification for collision repair work; plus the opportunity to acquire a space in close proximity to an existing Craftsman Collision location—Distinctive Auto Works Edmonton was born.
Operational for approximately 14 months, the shop has already witnessed some significant milestones. "We've been very successful and are expanding," says Hatswell. "We're up to 10 staff at this location including three body repair technicians, two tear down techs and three office staff plus a detailer." He notes that the shop is designed to double the current staff and work flow given its size.
That size also provides other benefits too. There's more than ample indoor parking for collision damage vehicles awaiting repair, as well as a designated drop off and delivery area. "Whenever a customer drops off or picks up, they can do that right inside the store in a clean, warm environment," says Hatswell.
Significant investments
As a designated premium brand collision repair facility, very significant investments in equipment and training are essential to repair customer vehicles. "We've probably made equipment investments of more than $1 million," says Rick Hatswell "and the training investment is incalculable."
Distinctive Auto Works is a certified BMW, Jaguar Land Rover and Porsche facility, with certification also in progress from Audi (due to be finalized in the coming months).
Achieving such designation requires a major and ongoing commitment to training, tools and processes and in fact, as Hatswell notes, the shop has seen its technicians spend every month training on OEM procedures since opening. "Recently, our technicians completed Audi's structural repair training which was two full weeks away," says Mr. Hatswell.
And to understand the depth of training required to properly repair today's luxury vehicles, the shop's technicians have been sent to New Jersey, California, even Germany to ensure they're able to handle any type of repair work that comes in.
Hatswell notes that having multiple OEM certifications does present its challenges, particularly where equipment is concerned. "Each brand requires specific repair equipment, ranging from welders, to measuring and structural holding to individual tools and aluminum repair facilities," he says but acknowledges these investments are required in order to fix luxury vehicles back to their original functionality. "We have full tool kits within the shop that have specific OEM branding," says Hatswell.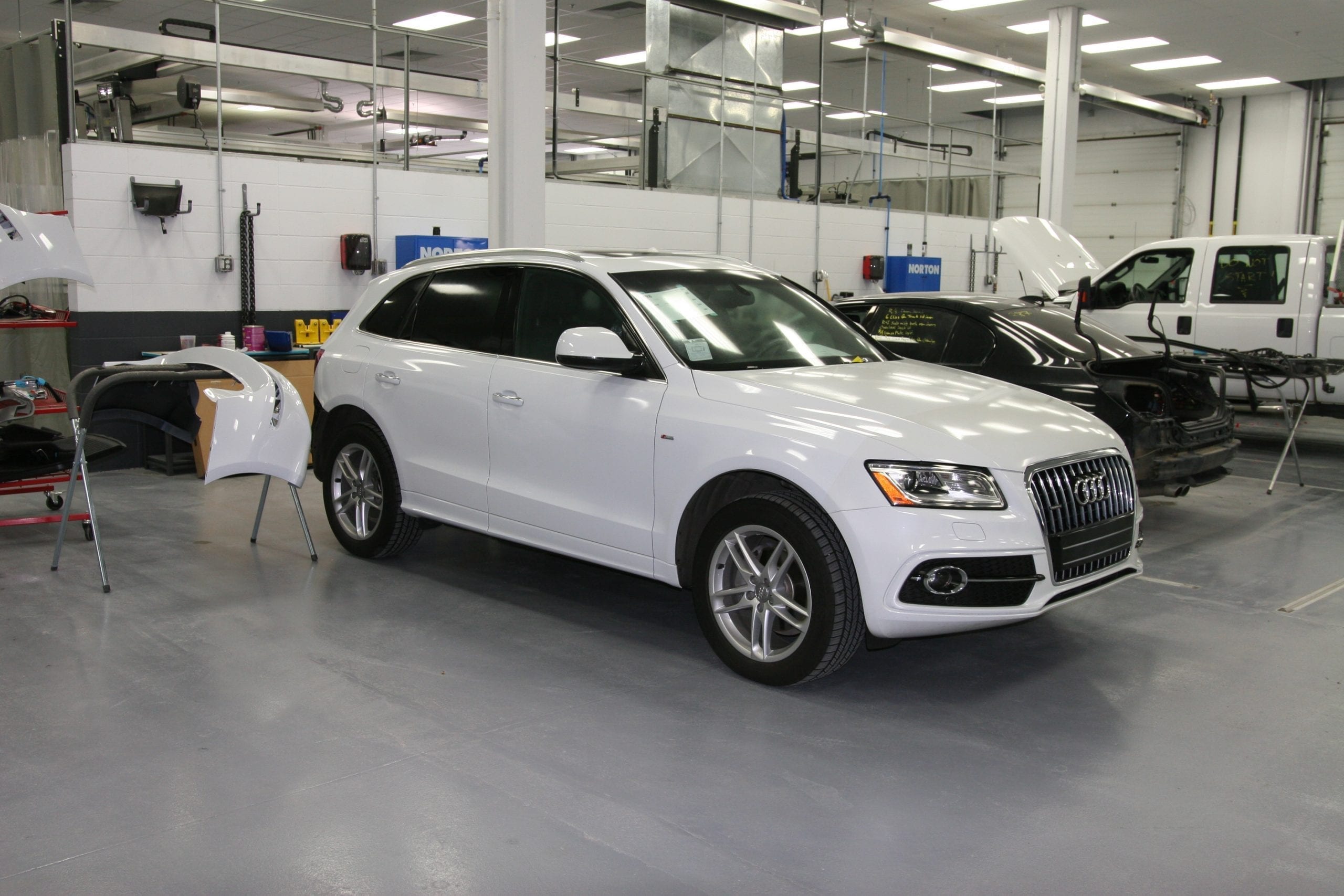 Proprietary system
With an emphasis on premier customer service and delivering the best results possible, DAW Edmonton runs on the proprietary Craftsman Management System which is utilized across the entire network of locations. It's a CRM, management and accounting system all rolled into one," says Hatswell. "It allows us to keep customers informed via text, email or even over the phone as well as enabling us to track, in real time all statistics, including shop capacity, cycle times and other KPIs."
As a luxury repair facility, DAW Edmonton works exclusively with BASF for refinishing and uses a modified version of the BASF Advanced Production Solutions and BASF's Glasurit product line (used exclusively at all Distinctive locations) to achieve premium results, every time.
Having established itself as a go-to facility for premium collision repairs, what's next for Distinctive Auto Works Edmonton? With three dedicated body repair technicians, the shop is now fully capable in satisfying the growing luxury vehicle market in the Edmonton area.
"We're really at the point where business is stable and we can plan for the future," says Rick Hatswell.
Along with his general managers Mark Greenberg and Michael O'Callaghan, Hatswell says the future looks bright for DAW in the Edmonton area. "The Distinctive brand in the Edmonton market is going to flourish, now that we have luxury OEM certifications in place and factory trained technicians. The goal for the next few years is to double where we are today and really make a mark in the Edmonton marketplace and do an exemplary job for our customers with luxury vehicles."
Hatswell also notes that the entire team has real passion about repairing premium vehicles and going the extra mile. "We always look to be ahead of the curve on the latest developments in repair techniques and processes. Even if something new that isn't necessarily required becomes available, we'll make the investment. We love to get the training and tools ahead of time and start working with them."