IR systems can hike productivity gains.
Nick Di Luca is so pleased with his robotic drying system's 35 percent increase in output, he's thinking of getting another one.
"It has reduced our overtime pay as well because now we're able to do everything in eight and a half hours," says the president of CSN- CARS Auto Collision in Burlington, Ont. "The working environment for my staff has also improved drastically, since everything is extremely clean and very efficient."
When Di Luca started researching the systems, he narrowed it down to two brand names—Symach and another manufacturer. He found that other manufacturers only wanted to sell him a spray booth, but considering the layout of his 12,000 square foot shop, he needed a whole re-engineering of his systems. "Symach did an extremely good job with that part of it," he says.
Productivity gains
Although robotic drying systems have been around for about 13 years in Europe, they have only recently started making inroads in North America.
In Europe, their lower energy costs quickly made them a popular choice for shops. "Natural gas is expensive in Europe," says Bill Bierie, Technical Solutions Manager at BASF. "These infrared (IR) systems don't consume anywhere near the amount of natural gas that a conventional paint booth does. Our natural gas prices in North America are much lower, so there wasn't a need."
However, when robotic drying systems started to demonstrate productivity gains, they became attractive to the North American market. "With the increased importance of cycle times, these are catching on," says Bierie.
There are two types of robotic drying systems—those that run on electricity, known as shortwave IR, and those that run on natural gas or propane, known as medium wave or gas catalytic IR. The user interface on these systems is also different.
"The electric systems have their user interface built right into them, so they're in the booth," explains Bierie. "It's built right into the arch that moves down the side of the car in the booth."
The user interface on the gas catalytic systems is almost always on the outside of the booth on an exterior panel. "It's a shop preference," says Bierie.
Spot repair
IR transfers energy through infrared waves directly to the panel, so it heats up directly. "The IR waves penetrate through the coating and hit the panel and heat it up from the inside out," explains Bierie. "With a traditional bake oven, it takes time to ramp that panel up to 120 or 140 degrees to cure the clears. With IR it's almost instant. It can also get it up to a much higher temperature, which lets us push some of our coatings further."
The arches move down over the top of the repaired areas. "The larger the area, the longer it takes to do its cure cycle," says Bierie. "In some cases where you may have to do the whole side of a car, you may only see a 10 to 20 percent savings. But where these systems really shine is for spot repairs, where you're only doing a fender or a small area on a bumper cover. You can reduce the cycle time from a 30-minute bake cycle to a five- minute cure cycle with the IR system."
"In our shops that have installed systems, depending on what type of shop it is, we see reductions between 30 and 50 percent overall."
Osvaldo Bergalio, President of Symach, says the process can be significantly faster. "For the paint product, application time is reduced 50 percent," he says. "Drying time can be reduced by 80 percent. The third advantage is touch time—today this may be six or seven days, but with our system, it's only one and a half days."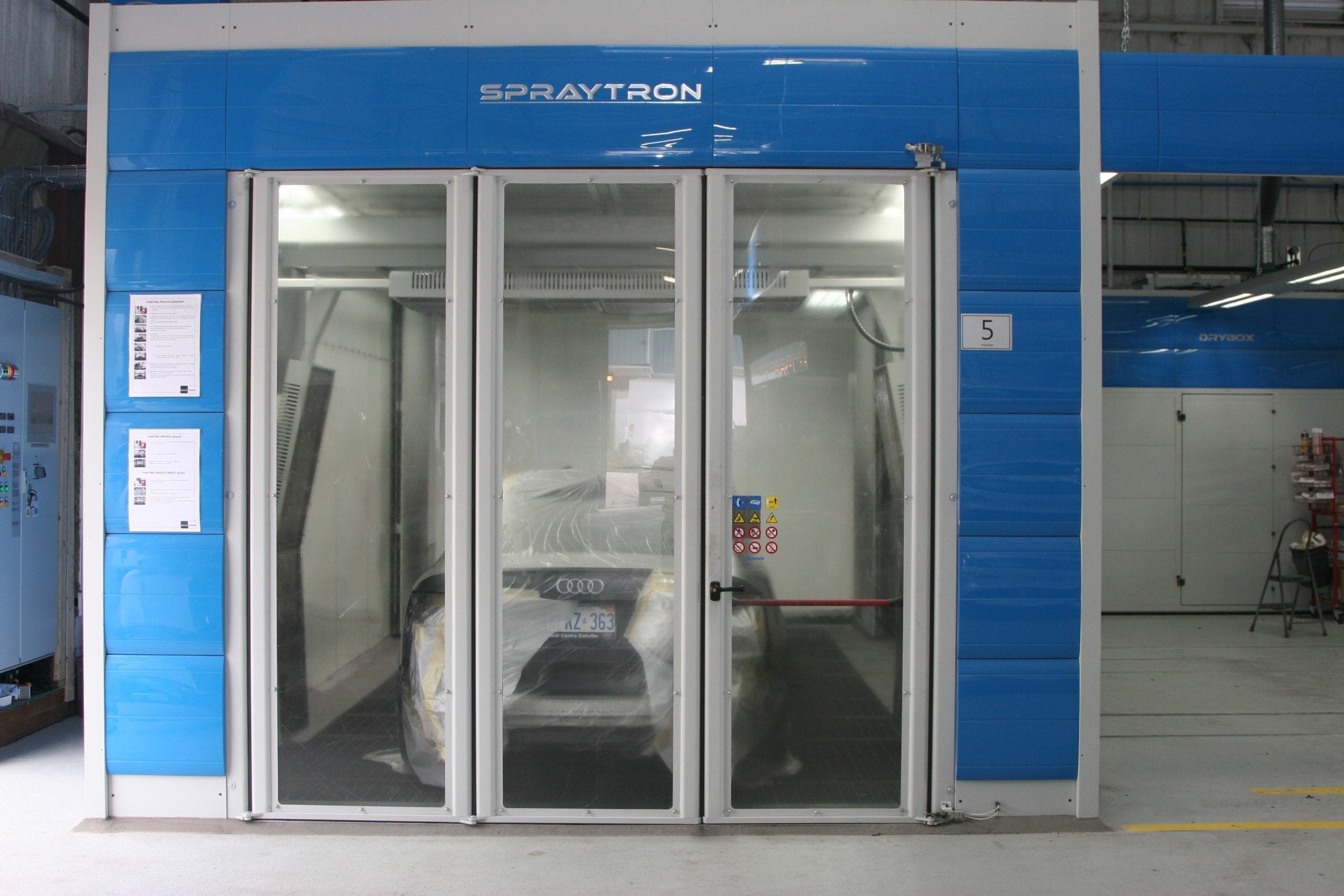 According to Bergalio, "a body shop that wanted to produce eight job cycles needs two spray booths and two painters. With our technology, you can do it with one painter and one booth."
"We can reduce labour costs by 50 percent, so you can double the size of your shop without hiring another painter or technician."
Staff comfort
There are also significant energy savings to be had with IR systems. "If you're in an area where electricity or gas is expensive, those can be big benefits," notes Bierie.
And there are also staff comfort advantages. "The paint booth isn't heating up to 160 degrees internally," says Bierie. "It's just an arch moving through, so the booth doesn't get extensively hot. In the summer, some of these booths can get very hot and stay hot throughout the day. So if you're not running that bake cycle in the booth, the painter can be more comfortable throughout the day."
With all these advantages, the main drawback of the IR systems is their cost. "It depends on the manufacturer, but it ranges from $70,000 to $120,000 U.S. to retrofit a booth, depending on the options you add," says Bierie. "If a shop wants to install a new booth, some booth manufacturers offer these systems as an add-on to their systems. That's how these systems often end up in shops. Typically, it's a shop replacing a booth or a shop building a new location."
Training
There is also training required. "It has to happen throughout the shop, not just in the paint area," says Bierie. "You have to use it throughout the whole process. In the body area, they could be doing all their body work and using IR curing to cure the body work."
The shops that are most successful integrate the IR system into an already lean process program. "It's not just another piece of equipment but another system," says Bierie.
Di Luca found integrating the IR into his shop was relatively smooth. "We moved all the work to our second shop and we worked two shifts," he says. "That's how we were able to keep up with production."
For training, Symach sent two instructors for two weeks. "Then another trainer came back after about a month, until my staff were used to the system."
"Our industry is under pressure from our customers to reduce cycle time, and this is helping us quite a bit. So it was worth the disruption."