Setting the benchmark for network customer care is a mantra at this facility.
When Speedy Collision began operations almost a decade ago, it started in West Edmonton with a 5,000 sq. ft. shop. Today, having expanded and moved to a different location, Speedy Collision West Edmonton continues to serve as a premier location for the network.
"This shop is near and dear to our hearts," says Speedy CEO and founder Terry Allen. From the very beginning, Speedy's mandate was to take a "customer in" approach to the collision repair process instead of from the business looking out.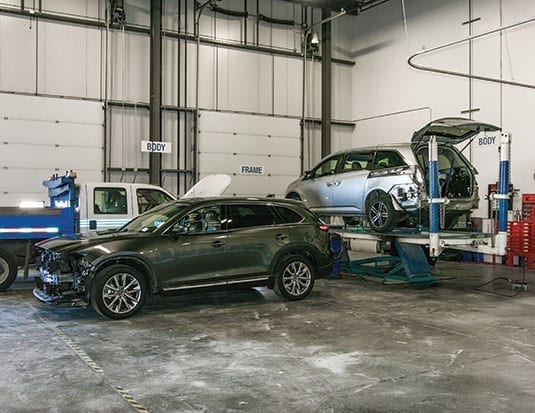 Prime location
The facility's current location at 18574, 104 avenue NW is no coincidence. "Location is very important to us at Speedy," says Allen. "When we look for a shop location, we want to look at its proximity to where people live.
This particular location jumped out at us because it was situated close to Anthony Henday Drive and Stoney Plain Road (the main artery that runs out of the city) and also because at the time, it was a brand new building."
As a brand new facility, it provided Speedy's corporate team with essentially carte blanche in terms of how it could be set up and run. "We wanted to position this location to take advantage of the latest developments in tools, equipment and training," says Allen.
This included equipping the back of the shop with the latest tools required to repair vehicles to OE specifications, including investing in aluminum repair capability. "It provided us with a platform to build on for OE Certification," says Allen.
Additionally, dialing Speedy's entire collision repair process from the front through the back end of the shop was critical, setting a benchmark for the rest of the network.
Currently, the 10,000 sq. ft. shop boasts a full time staff of seven and processes on average 10-12 vehicles a week, which works out to approximately 40-45 each month and approximately $1.2 million in sales.
Centralized aluminum repairs
Allen notes that even at current capacity, there's still plenty of room for expansion as well. Also, because the shop is fully equipped for aluminum repairs, it serves as the centre for such work, with customers at other Speedy locations having their cars brought here for repairs.
"Due to the amount of volume we currently see, it made sense for us to centralize aluminum repair work here," says Allen. "We can intake from other locations, then ship the car back to the store where the customer originally dropped off their vehicle."
Besides collision repairs, Kevin Butcher, Corporate Operations Manager, Speedy Collision, notes that the facility also offers other services, such as paintless dent repair, glass replacement and vehicle detailing, designed to provide customers with a full range of options.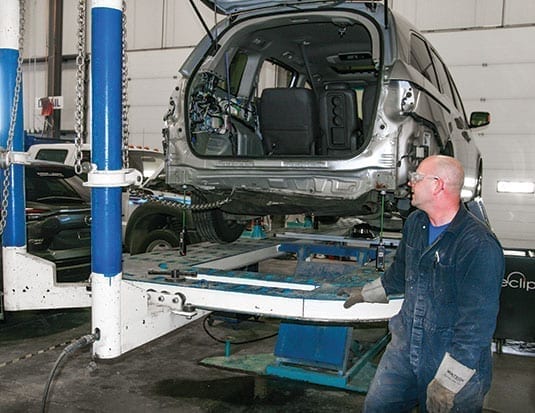 Three pillars
Terry Allen notes that the entire operation of this facility and others within the Speedy Collision network is built around what he terms "Three pillars. Firstly, we want to make sure we are responsible members of the community and promote safe and healthy working practices. Secondly, we want to make sure we have the skills and expertise to repair vehicles to pre-collision and OEM specifications via training and continuous improvement in the repair process. Thirdly, we want to ensure that our customers who come through the door feel right at home."
Because Speedy West Edmonton also has corporate team members on site, it provides the perfect testing environment for implementing new concepts and practices, which can then be rolled out across the entire network.
Additionally, it allows for a single point of contact through Speedy's corporate team for the network's insurance and fleet partners, providing piece of mind in terms of best practices and network operational efficiency. Allen notes that for most people, a vehicle collision represents a traumatic event.
Therefore, if the experience they have in getting their vehicle repaired proves to be as smooth and uneventful as possible, the result can be a positive outcome—one in which those customers share the experience with their friends, colleagues and family members.
"We know our demographic," says Allen. "Our job is to look in the mirror every morning and say, 'Would you send your vehicle to be repaired at Speedy Collision?' Whether it's a retiree or a young mother who comes in with her kids to have her vehicle repaired, that answer needs to be 'yes' every time."