A visit to the Pro Spot booth at NACE Automechanika Chicago allowed the Collision Management team to get a close look at the latest equipment.
"OEMs constantly introduce new assembly techniques and repair protocols. A company like ours must always be on the leading edge of innovation to offer collision shops the tools that allow them to repair the latest vehicles," said Art Ewing, Sales and Marketing Director, Canada for Pro Spot.
Ewing showed us Pro Spot's Pro Pull Complete Dent Repair System, which consists of a single unit with everything needed for a technician to repair a steel or aluminum panel.
Ewing explained that, "our goal is to simplify the work of technicians but also to offer collision shops flexible and versatile equipment."
The Pro Pull Complete Dent Repair System is largely automated. It simplifies the process of applying pull keys, allowing them to be placed in areas often difficult to access.
The mobile unit also contains all parts needed to do the job, stored in separate compartments to prevent contamination. The Pro Pull Complete Dent Repair System is currently in production and will soon be available in Canada.
Different rivets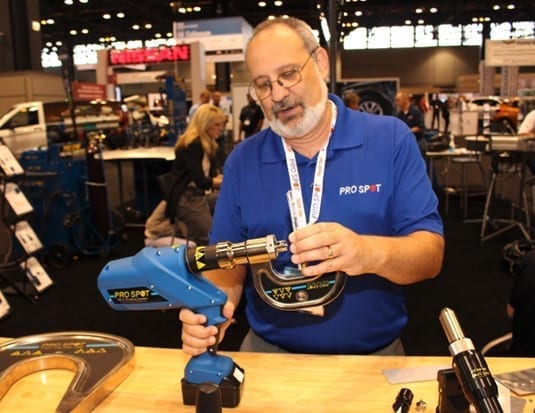 When performing repairs, it's sometimes necessary to remove and then reinstall rivets. The ProSpot PR-5 riveter has proved its worth for a long time. But this tool is constantly evolving. Pro Spot Engineer Bob Hamilton introduced a new, tool-adaptable matrix to remove rivets from the next generation of vehicles, including flat rivets on late-model Ford vehicles.
"Here too there is talk of saving time and simplifying the repair process," said Hamilton. "But we also designed this tip to protect the tool from which the rivet extractor can be damaged if it slides on the flat head of the rivet. " Hamilton also noted that because Pro Spot's development and production departments are co-located, it's easier to respond to market demands by introducing new products.